Start-up success at Scottish EDGE awards
Published: 20 December 2022
Leonardo Zussner (MA Economics with Business and Management, 2021) and his team at Bobbll.app were thrilled to secure funding in the Young EDGE category at the 2022 Scottish EDGE awards. Bobbll is an innovative job search platform that connects companies with University and College students- redesigning recruitment for a new generation of talent.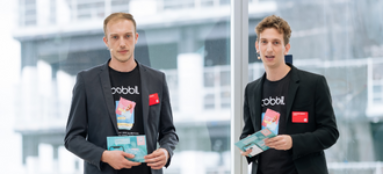 Leonardo Zussner and Vanja Popovic, recent University of Glasgow Alumni, have had remarkable success with their start-up Bobbll.app. Since its launch in 2019, while Leonardo was still studying for his MA in Economics with Business and Management, Bobbll has gone from strength to strength as a young company.
Bobbll is an innovative take on recruitment that aims to gamify the recruitment process for the next generation of talent. Reportedly, more than 70% of Gen-Z applicants abandon job applications if they take longer than 15 minutes to complete, or if they are complicated. Bobbll aims to solve this problem, by gamifying the recruitment process entering the market as a job-search platform that is Gen-Z friendly. Their partnerships with, and stellar testimonials from, major recruiters like S1 Jobs, Xpress Jobs, Marugame Udon and Selective Personnel suggest that Bobbll are on track for further success.
"At Bobbll we are providing recruiters and companies with the right tools to tap into social media, brand themselves stronger to a younger generation of talent and showcase truly who they are through video content to attract the right talent. We are extremely excited in what we are building and are looking forward to 2023 as we will be releasing our gamified features," said Leonardo, of the motivations behind launching the platform.
The team have received a host of accolades and awards in the short time since their conception, named a top Scottish start-up by Best Startup Scotland and recognised as the Most Innovative Recruitment App by Corporate Vision in 2021. Most recently, they secured funding at The Scottish Edge- the UK's biggest funding competition which aims to identify and support Scotland's most innovative start-ups.
"Thanks to all our customers, industry partners and the University of Glasgow for their incredible support over the last years. It wouldn't be possible without them. A special thanks to Marion Anderson who has been working with us very closely since the very early days of bobbll at the Enterprise Team," Leonardo added.
Congratulations to both Leonardo and Vanja and the whole Bobbll team!
---
If you have a success story you'd like to share with us, please get in touch.
First published: 20 December 2022