MSc Graduate Book Launch for Children's Hospital Charities
Published: 28 November 2022
Priya Kharbanda, Msc Real Estate Graduate and Chartered Surveyor, published her fifth children's book this month. 'Turn a Frown Upside Down' aims to promote good mental wellbeing in children, with the proceeds going to children's hospital charities.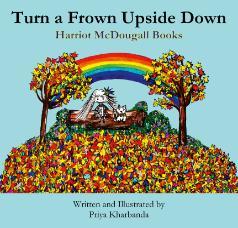 MSc Real Estate graduate and children's author and illustrator Priya Kharbanda published her new children's picture book this month. Turn a Frown Upside Down is the latest in the popular series of Harriot McDougall books.
Following a difficult time during the pandemic and having experienced a family bereavement, Priya was inspired to promote a positive mindset and good mental wellbeing through her writing and to support charitable causes. Priya, who is from Glasgow and works in the property industry has previously provided vital donations to children's hospitals through her other Harriot McDougall editions and related fundraising events. She has donated thousands of pounds and hundreds of books to both Glasgow Children's Hospital Charity and Great Ormond Street Hospital Children's Charity. Priya hopes to make further donations through her new book and events, to help support seriously ill children and their families.
"I have always believed that it is important to give back if you can and I wanted to support not only the NHS but children's charities" said Priya. "The work that these wonderful children's hospitals do makes a difference and I hope to continue to support worthy causes like these."
Kirsten Watson, CEO of Glasgow Children's Hospital Charity, said, "We're incredibly grateful to Priya for her support, and for her fantastic fundraising through the Harriot McDougall series. The past few years have been very difficult for charities across the country, and for children and families in hospital. Priya helped to raise vital funds during the pandemic, and we are delighted that she will continue fundraising in aid of our young patients."
The new book is now available from Harriot McDougall Books and select bookstores.
---
If you have a success story you'd like to share with us, please get in touch.
First published: 28 November 2022