International policy and strategies in rabies control
Our rabies research team have played important roles in international development, leading directly to major changes in policy, influencing decisions made by government health and veterinary authorities internationally.

Rabies is the most lethal known infectious disease and kills at least 55,000 people annually worldwide, mainly in Africa and Asia; however, it is almost entirely preventable. Existing vaccines for animals and humans are effective, but their use is limited by cost and accessibility.
Research undertaken by the team in the Institute of Biodiversity, Animal Health & Comparative Medicine and Boyd Orr Centre for Population & Ecosystem Health has led to the development and adoption of new health and veterinary policies in Africa and Asia, transforming research findings into practical strategies for rabies prevention and control, which are being implemented in some of the world's most disadvantaged communities.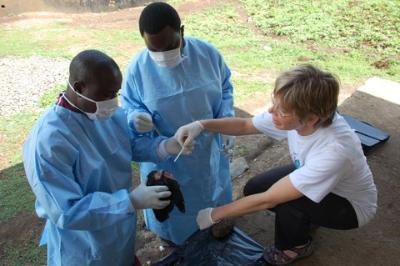 These strategies reduce the costs of medical treatment, such as the lifesaving post-exposure prophylaxis (PEP) - given to victims of bites by suspect rabid dogs - and increase its effectiveness by improving patient compliance, key to eliminating the barriers to receiving treatment. This has been made possible through policy discussions with international organisations, government health and veterinary ministries, and by direct operational training of veterinary and medical officers in Tanzania; the latter in partnership with the WHO/Bill and Melinda Gates Foundation rabies elimination project.
The Glasgow team's work on dog vaccination strategies has contributed to WHO Expert Consultations and to the WHO Strategic Technical Advisory Group for Neglected Tropical Diseases. This has provided momentum to the WHO's recognition that global canine rabies elimination is feasible, with national and global strategies now focussing on dog vaccination as a cost-effective means of reducing human rabies deaths. This has also led to joint commitments by WHO together with the Food and Agriculture Organisation of the United Nations (FAO) and the World Organisation for Animal Health (OIE) to support these goals.
---
First published: 2 July 2014