IBAHCM Away Day 2022
Published: 12 May 2022
Find out more about what we covered in our 2022 Away Day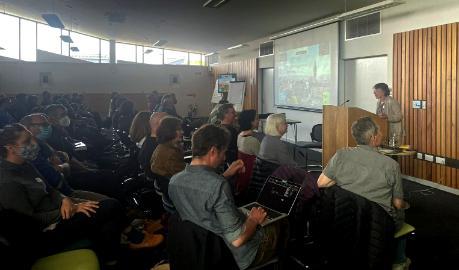 What a comeback! While we had many enthusiastic and egaged zoom participants, it was wonderful to have staff and students come together again in person for our annual Institute Away Day. Held on the 21st of April at the William Quarrier Conference Center, we relished the opportunity to network and socialize. As usual, our agenda was jam packed and fast paced, reflecting the research and work produced over the last year.
Our Director, Professor Dan Haydon gave a brief introduction to the day ahead and took some time to reflect on the past year. Some real struggles have been faced but we are fortunate and grateful to have a strong community, providing us the foundations of the positive research culture we are all proud to be part of. Dan higlighted some of the collective accomplishments, phenomenal teaching and impressive individual achievements.
We kicked off with a talk from our newest memeber of staff, Professor James Cotton, who we are delighted to "re-welcome" to the institute. Followed by an introduction to the exciting new GALLANT project from Professor Jamie Toney. Dr Jim Caryl provided some food for thought on engaging with impact, while Dr Christina Faust gave a wonderful talk on zoonotic athogen dynamics in converted landscapes.
Not to break with tradition, we also enjoyed three rounds of micro talks showcasing varied and inspiring research, from large mammal thermoregulation to liver fluke infection. Well done to all our speakers who gave excellend presentation and survied the intense time pressure!
Much of our day was dedicated to the future of the institute. In August we join Life Sciences and Veterinary Medicine to become The School of Biodiversity, One Health and Veterinary Medicine. Hearing from our newly appointed Directors of Innovation (Professor Nick Jonsson), Education for Life Sciences (Professor Barbara Mable) and Research (Professor Roman Biek), gave everyone a sense of the exciting opportunities that lie ahead.
Continuing with the theme, we held a breakout session The things we do: what to keep, what to drop, and something new to try. These discussions brought up many useful thoughts and ideas and were dominated by a lot of optimism, goodwill and creativity, which was great to see! A summary of discussion point and suggestions can be found here.
Throughout the day we enjoyed twitter posts from our Institute feed (#BAHday2022) but also from many of the virtual and non virtual attendees, providing a great platform for some additional comments and discussions. With one hundred IBAHCM collegues at the Quarriers and over sixty joining on zoom, the Away Day was once again a huge success. Thank you to everyone who engaged and contributed.
---
First published: 12 May 2022