Professor Rick Maizels Appointed Fellow of the Academy of Medical Sciences
Rick Maizels, Professor of Parasitology at the Wellcome Trust Centre for Molecular Parasitology within the Institute of Infection, Immunity and Inflammation has been appointed as a Fellow of the Academy of Medical Sciences (AMS).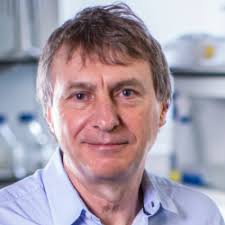 Founded in 1998, the AMS is the independent body in the UK representing the diversity of medical science. The new Fellows have been elected for their outstanding contributions to biomedical and health science, leading research discoveries, and translating developments into benefits for patients and the wider society.
‌Prof Maizels' work is centred on the fundamental questions of how and why parasites manipulate the sophisticated mammalian immune system, and how that system has evolved in the face of parasite immunomodulatory strategies.
His laboratory focuses on the most complex parasites to invade the body – multicellular helminths – which cause widespread tropical diseases while displaying profound immuno-regulatory capability.
Prof Maizels said: "It's a great honour to be elected to the Academy of Medical Sciences, and especially exciting as my own work is moving from fundamental biology to medical translation.
"Members of the Academy are all outstanding colleagues with a wealth of experience and insight, and I am very much looking forward to working with them in the coming years."
Prof Maizels is joined as a new Fellow by Professor Mandy Maclean, Professor of Pulmonary Pharmacology at the University's Institute of Cardiovascular and Medical Sciences, bringing the total number of UofG Fellows to 25.
Prof Dame Anna Dominiczak, Vice Principal and Head of the College of MVLS, said: "I am delighted by the news that my MVLS colleagues, Prof Maclean and Prof Maizels, have been elected to the AMS.
"It is an incredible achievement which recognises the huge contribution each of them has made within their respective fields, as well as being a reflection of the talent we have within the College of MVLS. On behalf of everyone at the College of MVLS, and the University as a whole, I wish to extend my congratulations to both of them."
The new Fellows will be formally admitted to the Academy at a ceremony on 27 June 2018.
---
First published: 19 June 2018