Getting to the heart of the matter
Issued: Tue, 18 Jul 2017 12:30:00 BST
Over 13,000 people visited the NanoMateScience exhibit at this summer's Cheltenham Science Festival, according to official figures from the event's organisers.
NanoMateScience are a group of researchers from the University of Glasgow and Strathclyde University, led by Dr Pasquale Maffia of the Institute of Infection, Immunity & Inflammation.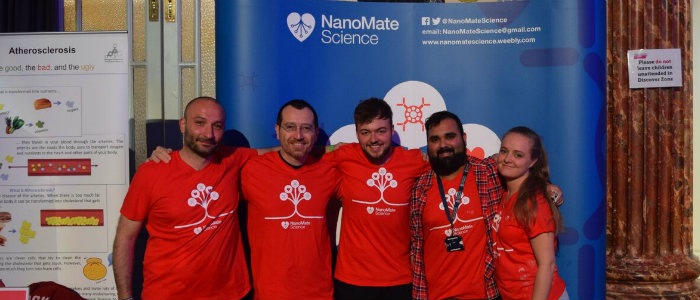 The Festival, which ran between 6–11 June, and received a visit from the Prime Minister, Theresa May, marked the beginning of a busy few months for the team, who also visited The Green Man Festival and the British Science Festival over the summer.
NanoMateScience received a £3 million grant in 2014 from the Engineering and Physical Sciences Research Council (EPSRC) to investigate how nanoparticles can be used to improve the diagnosis and treatment of cardiovascular disease, a leading cause of death worldwide.
Cardiovascular disease is usually caused by the formation of inflammatory plaques in the arteries, known as atherosclerosis. The team intend to revolutionise the diagnosis and treatment of heart disease by using gold nanoparticles to recognise inflammatory markers.
Engaging with the public
The diagnosis and treatment of heart disease impacts directly on many lives worldwide, so public engagement plays an important role in the project.
Activities at NanoMate exhibits include making clay models of immune cells, a diagnostics lab, 3D model arteries that use magnetic marbles to demonstrate the binding process of the nanoparticles, and an arcade-style 'AtheroBlaster' computer game.
Many of the activities are designed with a younger audience in mind, aiming to be fun and educational, to promote healthy lifestyle choices and inspire the next generation of scientists. However, as the project has progressed, the team have developed activities to include audiences of all ages.
Answering questions
Adults, who have been directly affected by heart disease, are offered an opportunity to talk to scientists, and ask questions about how modern drugs work and why they are prescribed – explanations which are often overlooked in patient interactions with GPs.
The team's feedback postcards offer a chance for older visitors to ask these kind of questions, while also serving as an invaluable source of information on public awareness and attitudes towards heart disease.
‌
Dr Pasquale Maffia said: "A fundamental part of developing a new diagnostic approach is to build a dialogue between the public and the lab. It's important to educate about the contribution of inflammation to heart disease, but also to build an understanding of the underlying factors which contribute towards the condition.
"At Cheltenham we had a great time engaging people in science and discovery, cultivating the next generation of scientists and encouraging adults to become informed citizens."
Jonathan Noonan, a third year Immunology PhD student, added: "Feedback from our visitors so far has been extremely positive, we're really looking forward to introducing NanoMateScience to a range of new audiences."
NanoMateScience are supported by the EPSRC, BHF, European Commission, BSI, and the Institute of Infection, Immunity and Inflammation and the BHF Centre of Excellence in Vascular Science and Medicine at the University of Glasgow.
---