Ocean Liners: Cultures of Promotion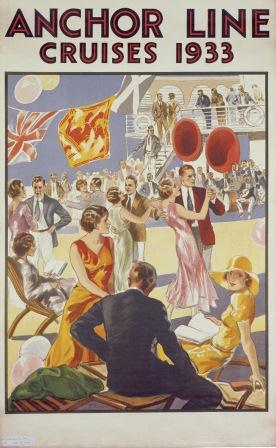 Keywords: literature, art and design, theatre and film, visual culture, travel, mobility, shipping, marketing, material culture
Summary: This project asks how images of the ocean liner in art and literature influenced, and were influenced by, the promotional discourses of shipping companies in the earlier twentieth century.
Leisure travel was an elite practice in the nineteenth century, and this meant that geographical mobility and upward mobility became strongly associated. During the early to mid-twentieth century, shipping lines drew on this association to promote travel as a means of self-improvement for the aspirational middle classes. At the same time, liners appeared increasingly often in fiction, drama, film, and visual art, across the range from modernist experiment (Francis Picabia, Osbert Sitwell, Charles Sheeler) to middlebrow stylishness (Anita Loos, Noël Coward) and popular entertainment (Anything Goes, Romance on the High Seas). This project explores the shared visual and textual idiom that developed across adverts and literature, paintings, photographs and cinema. The successful candidate will make a selection of creative works from any part of the Atlantic world, and examine how they borrowed from or parodied contemporary promotional discourses. The historical element of the research centres on shipping history collections held at the University of Glasgow. The project will also involve visits to other UK and overseas archives, and site visits to ships in dock.
Project team: The project will be supervised at the University of Glasgow by Professor Faye Hammill (English Literature), Dr Sabine Wieber (History of Art) and Dr Stephanie Anderson (Marketing). The student will have access to the rich resources of the Shipping Companies collections in the Scottish Business Archive at the University of Glasgow. Specialist guidance will be provided by archivist Kiara King, and further support is available from the Glasgow School of Art.