UofG-led arthritis research centre creates new generation of scientists
Published: 12 October 2020
A University of Glasgow-led national centre for research into inflammatory arthritis is proud to announce it has awarded 12 PhDs in its first round of funding, creating a new cadre of young scientists trained in pathogenesis research to fight arthritis
A University of Glasgow-led national centre for research into inflammatory arthritis is proud to announce it has awarded 12 PhDs in its first round of funding, creating a new cadre of young scientists trained in pathogenesis research to fight arthritis.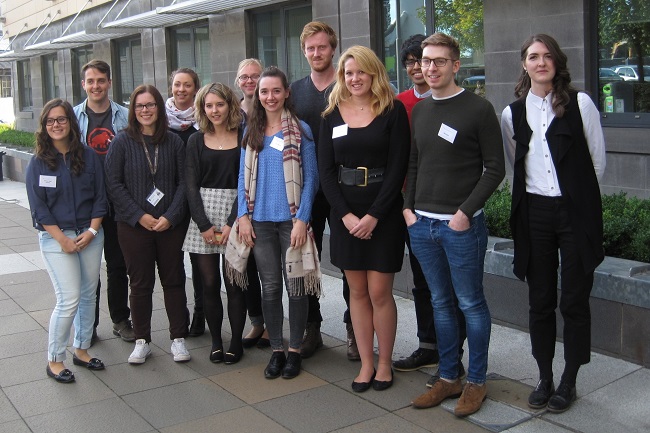 The Research into Inflammatory Arthritis Centre Versus Arthritis (RACE), who received renewed funding of nearly £2m over five years from Versus Arthritis last August, is now in its second phase and will be appointing a further 12 PhD students shortly - seven PhD students will start this year, with five more to start in 2021.
The 12 new PhD students represent a unique multi-centre supervision programme across RACE's centres: Birmingham, Glasgow, Newcastle and now Oxford, which joined the collaboration last year. RACE is a University of Glasgow-led collaboration between the Universities of Birmingham, Glasgow, Newcastle, and Oxford, led by Prof Iain McInnes.
RACE – which was first opened in 2014 by Olympic gold-winning rower Katherine Grainger – was established to find out more about the causes of rheumatoid arthritis, a serious, inflammatory, auto-immune condition that affects the joints and can lead to chronic pain and disability.
The overall aim is for RACE to understand why rheumatoid arthritis establishes itself in the first place, and why the biological processes that cause rheumatoid arthritis vary between different people. RACE also wants to understand why some people respond to treatments only partially, or not at all. Researchers hope that this will eventually lead to treatments driven by precision medicine.
Professor Iain McInnes, Head of the University of Glasgow's College of Medical, Veterinary and Life Sciences, said: "I am delighted to see the success of 12 PhD students within RACE. These incredible young scientists are representative of our innovative collaborative approach to research as well as study; we hope these individuals go on to help further our research and understanding of rheumatoid arthritis, as we continue to try and address the needs of the more than 430,000 people in the UK who are living with the pain and fatigue of this condition.
"It is now a terrific challenge to welcome 12 new students ready to take up the next set of questions. I am proud that the RACE PhD students really are the jewel in the crown of this exciting scientific collaboration."
Head of Research Delivery at Versus Arthritis, Caroline Aylott said: "The RACE centre has made huge steps forward in our understanding of inflammatory arthritis, but there are still many people with the condition who live in pain because they don't respond to new treatments.
"We're delighted to be supporting a further set of PhD students through this programme and onto their future careers. Given the success of the last 12 students, there's no doubt their research will move us closer to a world where people with arthritis are freed from persistent pain and can access treatments that work best for them."
Jennifer Mitchell, a RACE PhD student from 2015-2019, said: "I am proud to be part of the success story of the initiative. The work I carried out provided new insights into how inflammation is perpetuated at the molecular level during rheumatoid arthritis, and hopefully this will lead to future therapeutics that not only treat the disease but bring us closer to a cure.
"As part of RACE you have the opportunity to collaborate with world-leading researchers across the UK and beyond in an inclusive environment. RACE is a driving force behind our search for a cure for rheumatoid arthritis and the quality of research that has come out of the programme is impressive. I have no doubt that we are closer to a cure thanks to RACE."
Rheumatoid arthritis occurs when the body's immune system attacks itself. Although drug treatments have considerably improved in the past 20 years, they are not effective in all people; and even with the best available drugs, many people' disease responds only partially, and sometimes not at all.
RACE currently provides a globally-recognised national focus for scientific research in the field of rheumatoid arthritis and has made many important developments and translational insights in the fight against the disease.
This funding, for the second phase of RACE, which has now begun, will focus on translational and experimental medicine and clinical trials for the disease. The expanded four-centre PhD training programme will continue as part of this.
---
Enquiries: ali.howard@glasgow.ac.uk orelizabeth.mcmeekin@glasgow.ac.uk / 0141 330 6557 or 0141 330 4831
First published: 12 October 2020