Researchers in Glasgow have significantly advanced the field of cardiovascular biology and medicine in areas like heart failure, stroke, biomarkers and hypertension.
DISCOVER MORE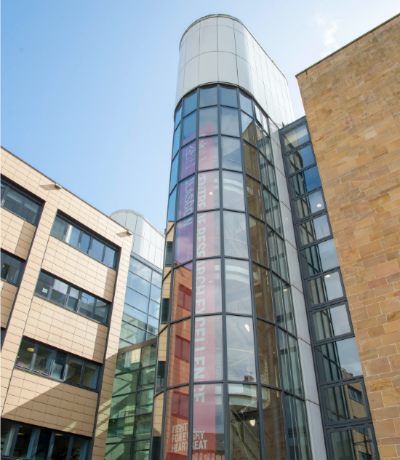 Cardiovascular (heart and circulatory) disease is the number one cause of death globally, taking the lives of 17.7 million people every year. The West of Scotland has one of the highest rates of cardiovascular disease in the world.
The University of Glasgow's Institute of Cardiovascular & Medical Sciences (ICAMS) is working to tackle this global problem by exploring the causes and mechanisms of cardiovascular disease.
ICAMS research focuses on improving the prevention, diagnosis and treatment of clinical conditions and diseases such as heart failure, arrhythmias (irregular heartbeat), diabetes, ischaemic (coronary) heart disease, atherosclerosis, kidney disease, hypertension (high blood pressure), stroke and dementia.
Research is the core of the institute, around which all other activities - including teaching, training, clinical care and public outreach - take place. It is an outstanding research environment, with more than with more than 55 principal investigators conducting basic, translational and clinical research.
Why Glasgow?
Glasgow provides an ideal infrastructure for cardiovascular research, with the University at the heart of the Scottish precision medicine ecosystem, which is pioneering global advances in data-driven healthcare.
Precision medicine is an innovative new approach, which enables doctors and researchers to identify and develop treatments that are effective for particular groups of patients using advanced new genomic, imaging and information technologies. It has the potential to revolutionise healthcare and treatment of chronic diseases such as cardiovascular disease.
Access to anonymised patient data from the National Health Service (NHS) in Scotland means ICAMS researchers are advancing disease-specific bio resources, helping to identify and develop targeted treatments for particular groups of patients.
ICAMS clinicians work directly with patients in NHS hospitals within the Greater Glasgow & Clyde Health Board and in the Golden Jubilee National Hospital, which is home to Scotland's National Services in Adult Congenital Heart Disease, Advanced Heart Failure and Pulmonary Vascular Disease.
The British Heart Foundation Centre of Research Excellence
ICAMS is home to a British Heart Foundation (BHF) Centre of Research Excellence, one of only six in the UK alongside the University of Cambridge, the University of Edinburgh, King's College London, Imperial College London and the University of Oxford.
The BHF Centre of Research Excellence, which focuses on vascular biology and biomedicine, opened in April 2014 and was awarded an initial £3M research grant to help the UK's brightest young doctors and scientists find new and innovative ways to fight cardiovascular disease and its complications.
"The BHF Centre of Research Excellence brings together outstanding researchers across multiple disciplines at the University of Glasgow and worldwide, studying the whole spectrum from the biology of heart and vascular cells and how they interact, to how and why the heart and blood vessels become inflamed and injured and how this contributes to the development of cardiovascular diseases.

The BHF Centre has established three outstanding core facilities that provide strong support for our research across ICAMS. The core facilities include clinical trials, vascular phenotyping in humans, and vascular functional studies in humans and experimental models.

This comprehensive platform allows the examination of arteries at many levels that can inform us about mechanisms and causes of vascular disease and new approaches to promote vascular health."

British Heart Foundation
Impact of research
ICAMS discoveries are regularly published in leading journals including The Lancet, The New England Journal of Medicine and Nature; and ICAMS researchers, including Professors John McMurray and Naveed Sattar, are consistently named as highly cited investigators in Thomson Reuters' global ranking.
Over £48M is currently invested in research projects in ICAMS. With funding from the British Heart Foundation, the Medical Research Council (MRC), the Wellcome Trust, the Stroke Foundation, Diabetes UK, Chief Scientists Office, and the EU Commission.
In addition, ICAMS runs numerous clinical trials funded by AstraZeneca, Bristol Myers Squibb, Eli Lilly and Pfizer, amongst others.
Case studies
It is through the leadership in clinical trials that ICAMS has had major impact on patient health. Several landmark studies, particularly in heart failure, hypertension, hypercholesterolaemia and stroke have been instrumental in changing the practice of medicine and many are fundamental to international guidelines on the diagnosis, prevention and treatment of cardiovascular disease.
i) Cardiac
There are approximately 26 million people living with heart failure worldwide, and ICAMS researchers have been instrumental in trailblazing clinical trials that have proved the value of new drug-based therapies in heart failure.
University of Glasgow trials supported the worldwide approval of a new first-in-class drug, Entresto (working with multinational pharmaceutical company Novartis), through landmark demonstrations of the life-saving benefits for patients.
This was one of the most significant breakthroughs in heart failure management, markedly reducing mortality and hospitalisation rates worldwide.
This treatment now features prominently within the leading international clinical guidelines for heart failure.
ii) Stroke and dementia
Stroke is the most common cause of adult disability and is a major cause of death in the western and developing world. ICAMS leads clinical trials of acute treatments for stroke and new preventative measures for stroke and dementia.
ICAMS researchers study novel approaches for treatment of brain bleeding episodes and on hypothermia as a treatment for stroke. They work closely with industry on all aspects of trials, from planning through data monitoring, analysis and reporting.
ICAMS founded and manage the Virtual International Stroke Trials Archive (VISTA) collaboration. VISTA is an academic-led archive of clinical trial data, which provides access to high quality information to help explore and design new studies to help patients with stroke.
iii) Metabolic
Prescriptions for cholesterol-lowering statins have soared over the past ten years, making them one of the most widely prescribed medications in the world. This has raised concerns over inappropriate prescribing to patients, despite their clinical benefits in reducing the risk of cardiovascular disease.
ICAMS research has been pivotal in addressing this issue. It has defined worldwide clinical guidance on which patient populations should be given statins, enhanced the understanding of statin side effects, and revised the information provided to patients in this important clinical area.
University of Glasgow clinical trial work has guided statin use in rheumatoid arthritis patients, and led to the first-ever clinical guideline to define and promote the use of statins in the rheumatoid arthritis patient population.
Similarly, the identification of a diabetes risk associated with statin use, although outweighed by the benefits they provide, is now incorporated into international clinical guidelines to inform doctors.
This prompted the European Medicines Agency and the US Food & Drug Administration to revise safety labelling for all classes of statins. As a result, the diabetes risk is now communicated to the 27 million patients in the UK and US who are prescribed statins.
These advances, led by ICAMS, have improved patient selection and enhanced the clinical guidelines of statin therapy, benefiting patients across the world.