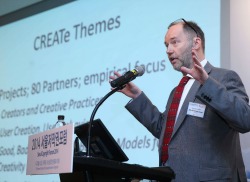 image credit: Korea Copyright Commission
Professor Martin Kretschmer
‌Director of CREATe / Professor of Intellectual Property Law
'CREATe investigates the future of creative production in the digital age, bringing together an interdisciplinary team of academics from law, economics, management, computer science, sociology, psychology, ethnography and critical studies.'
Martin Kretschmer is Professor of Intellectual Property Law in the School of Law, University of Glasgow, and Director of CREATe, an interdisciplinary research centre funded jointly by AHRC, EPSRC and ESRC). From 2000-2012, he was Director of the Centre for Intellectual Property Policy & Management (CIPPM) at Bournemouth University (www.cippm.org.uk). In 2010/11, he was seconded to the UK Intellectual Property Office.
Previously Martin was German Consultant Editor at BBC Worldwide, and wrote for German language national newspapers, public radio and TV, including ZEIT, Frankfurter Rundschau, Neue Zürcher Zeitung, BR, SWF, WDR, SFB, Radio Bremen, DeutschlandRadio.
Find out more about Professor Kretschmer.

Professor Kretschmer is interested in the empirical analysis of intellectual property law and in the genealogy of the norms governing an information society.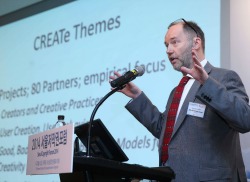 image credit: Korea Copyright Commission