Spring School 2023 call for contributions
Download the Spring school 2023 full callSpring school 2023 full call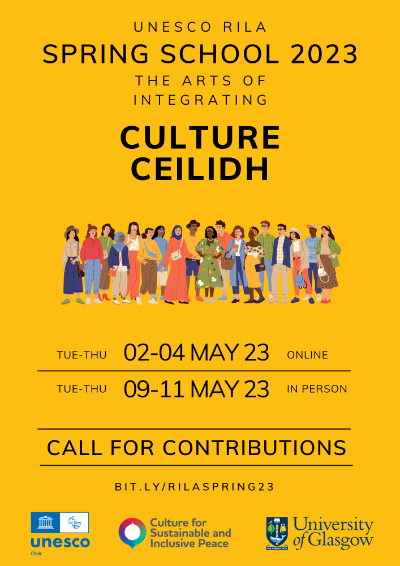 A h-uile duine dannsa
A h-uile duine dannsa
A h-uile duine seinn
A h-uile duine na teine
Gheabhear a h-uile duine
It's the month of fire and feet
Of open air and all together
Of all as one and all as fire
Of fire and feet
A h-uile duine dannsa
A h-uile duine seinn
A h-uile duine na teine
Gheabhear a h-uile duine
It's a time to talk
and a time to open
all the ways of the world
to the ways of the fires
A h-uile duine dannsa
A h-uile duine seinn
A h-uile duine na teine
Gheabhear a h-uile duine
It's time for singing and a time
For dancing
For kindling the stories
And storing the fires.
A h-uile duine dannsa
A h-uile duine seinn
A h-uile duine na teine
Gheabhear a h-uile duine
So join us in the laughter
And join us at the fire
And join us with a story
And join us til you tire.
A h-uile duine dannsa
A h-uile duine seinn
A h-uile duine na teine
Gheabhear a h-uile duine
By Alison Phipps
We invite proposals for workshops / presentation / performances / creative interventions for the UNESCO RILA Spring School 2023 which connect with
the theme of "culture ceilidh".
This year the Spring School will focus on culture as a binding factor in society. For 2023, we invite proposals which explore meeting, greeting, sharing, and other cultural practices that are centred around communal experiences.
Universal Declaration of Human Rights
Article 27
Everyone has the right freely to participate in the cultural life of the community, to enjoy the arts and to share in scientific advancement and its benefits.
"The right to take part in cultural life guarantees the right of everyone to access, participate in and enjoy culture, cultural heritage and cultural expressions. A human-centred approach to development based on mutual respect and open dialogue among cultures is key to safeguarding heritage, strengthening creative industries, and encouraging cultural pluralism. The full realization of this right depends on concrete steps for the conservation, development, and diffusion of culture."
(source: https://en.unesco.org/human-rights/cultural-life (02/11/2022))
Sub-topics
We invite submission which touch on or address:
parallels of 'ceilidh' in other cultures

examples by community groups/organisations where culture is part of the integration methodology: what are the difficulties and best practices?

researching "culture" and issues such as quantifying qualitative data, cultural representation etc.

making space for cultural differences within society, while also acknowledging the need to preserve the culture of the host community

culture loss, destruction and emergence of new culture
Structure of the Spring School
We are aiming for 6 online sessions (2-4 May), followed by an in person 3-day event (9-11 May). We will structure the contributions in set blocks of 5/30/45/90 minutes, and proposals should bear this in mind. Of course, this is just a guide and proposals of a longer/shorter duration will be considered. We are open to most types of interaction at the Spring School!
Examples of ways to contribute
Workshop – please indicate maximum workable group size, if applicable.

Presentation – If your proposal has a more academic slant, this format might work better. You will be allotted 30 mins. We suggest 20/10 or 15/15 mins presentation and discussion.

Interview / panel discussion

Pecha Kucha style presentation – 5 minutes each, these will be grouped into a longer session

Performance – theatre, dance, song, music, poetry, spoken word, storytelling etc.

Physical exhibit – Poster or installation for the communal areas – the exhibit can be accompanied by a short video/audio description.

Hackathon/problem solving session – you would get 5 minutes to present your problem, followed by 10 minutes of collective problem solving

Other. You can take people outside, you can organise a flash mob, be creative!
Submission Process
Please submit a short proposal describing your contribution to unesco-rila@glasgow.ac.uk. If you like forms, you can download the proposal form from our website here (see link on this page). If you don't like forms, feel free to send us your proposal in one of the following formats:
Written description of maximum one side A4 (11pt Arial)

Link to an Audio/video recording of maximum 2 minutes
Please include:
Title of your contribution;

Which topic(s) of the Spring School your contribution addresses, and how;

Format and duration of contribution;

A description of the contribution and its aims;

Names and organisations of the people involved in your session;

Any audio-visual, IT, space, access, language or other requirements you might have

If you want to conduct an online session, please state in your proposal how you will engage the audience and make your session interactive.
Deadline for submission is midnight on Monday 6 February 2023.
Next steps
Proposals will be reviewed by members of the RILA team, and you will be notified of the outcome by end February 2023. An abstract, biography, and images for the programme will be requested upon acceptance and we will request this is returned by Monday 6 March 2023.
Fees & Expenses
The Spring School runs on a very tight budget – this is how we can ensure it remains FREE to all with no registration fees. We cannot pay presenter fees. We have a very, very small travel budget to support a very limited number of presenters. If your proposal is accepted, you will receive more information on how to apply for travel support, should you need that. Priority will be given to those without a steady means of income.
Childcare
Due to the location of the event, it will not be possible to provide on-site childcare. If you will require childcare, please get in touch with us as soon as possible, to see if we can assist or partially subsidise childcare as required.
Questions/comments
For questions, comments or to discuss your ideas, please contact Bella Hoogeveen in the UNESCO Secretariat at unesco-rila@glasgow.ac.uk.
Additional reading
UNESCO Universal Declaration on Cultural Diversity
The Value of Arts and Culture to People and Society – an evidence review by the Arts Council
Culture: at the heart of SDGs - UNESCO report