Shared Spaces: Migration Past & Present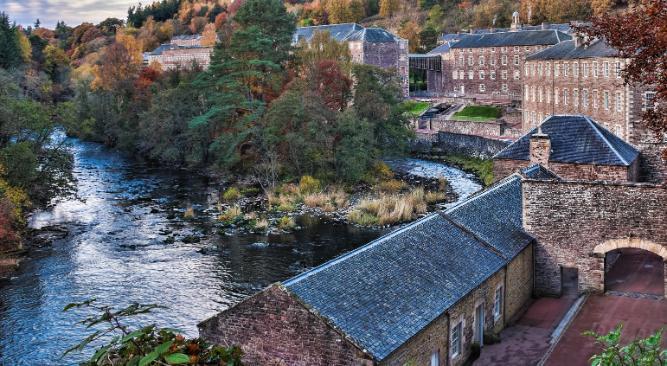 Call for contributions for a NONFERENCE on 16 November 2023 at New Lanark
When we move through spaces, getting on the bus, entering a shop, starting a new job, going on holiday, we expect others to make space for us.
But is that always needed?
It was long believed that the various members of an ecosystem compete for space, but research has now shown that that is an outdated model and that many plants and animals actually share space and help each other out – a strategy which in many cases makes for more successful survival.
Can the same be said for humans?
We live in an age in which mainstream media reinforce the idea of migrants coming in to take over "spaces of the locals". There is finite supply of space and when one comes in, another needs to give way.
But is that really what happens when people move from place to place? Can sharing space make for a richer experience of life?
This event aims to explore ways of living together, in both past and present and with a focus on people who have experienced migration in their lives.
We invite creative contributions that guide the audience to deeper levels of reflection and understanding of sharing space and that work with the physical spaces in New Lanark to strengthen their message through place-based learning. Preference will be given to contributions that incorporate the performing arts, but proposals with a more academic slant will also be considered.
Audience: family audience
Examples of ways to contribute
Performances about sharing spaces
Drop-in workshops
Experiential games
Stories about commons, greens and other shared areas
Quizzes, riddles and treasure hunts for children and playful adults
Interactive (academic) presentations
Songs, music, dance, poetry, spoken word etc
Multilingual contributions
Impromptu theatre
Presentation – If your proposal has a more academic slant, this format might work better. You will be allotted 10 mins + 10 minutes of discussion

Interview / panel discussion

Physical exhibit – Poster or installation for the communal areas
Other. You can take people outside, you can organise a flash mob, be creative!
Submission Process
Please submit a short proposal describing your contribution to unesco-rila@glasgow.ac.uk in one of the following formats:
Written description of maximum one side A4 (11pt Arial)

Link to an Audio/video recording of maximum 2 minutes
Please include:
Title of your contribution;

How your contribution addresses the topic of shared spaces;

Format and duration of contribution;

A description of the contribution and its aims;

Names and organisations of the people involved in your session;

Any audio-visual, IT, space, access, language or other requirements you might have.
Deadline for application is at midnight on 4 September 2023
Next steps
Proposals will be reviewed by members of the RILA and New Lanark teams, and you will be notified of the outcome by 8 September 2023. An abstract, biography, and images for the programme will be requested upon acceptance and we will request this is returned by Monday 25 September 2023.
Fees & Expenses
The Shared Spaces Nonference operates a pay what you can model. If you are on a tight budget, we suggest you register for one of the free tickets. We unfortunately cannot pay presenter fees. If your proposal is accepted, you will receive more information on how to apply for travel support, should you need that. Our travel support budget is very small and is only available to those without a steady means of income.
Childcare
Due to the location of the event, it will not be possible to provide on-site childcare. If you will require childcare, please get in touch with us as soon as possible, to see if we can assist or partially subsidise childcare as required. New Lanark is a safe environment. If your children are over 10 years of age, we recommend you bring them along!
Questions/comments
For questions, comments or to discuss your ideas, please contact Bella Hoogeveen in the UNESCO Secretariat at unesco-rila@glasgow.ac.uk.