Naa Densua Tordzro - researcher and artist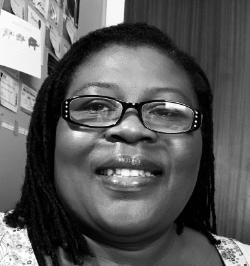 Naa Densua Tordzro currently works at the University of Glasgow as Research Assistant on MIDEQ (Migration for Equality and Development), School Of Education. She was awarded her MPhil from the School of Education, University of Glasgow in 2021. She holds a BA in Fashion Technology from the Heriot Watt University in Galashiels, Scotland.
She is Ghanaian, a fashion designer, dressmaker and African (Ga) music composer and singer with knowledge and research interest in ancient West African Adinkra symbols that were printed on traditional fabrics. Her current research focus is on decolonising textiles and fashion education in the contexts of the global south.
As a designer and African textile artist, she has spent time researching the value of African textiles culture of the Ghanaian living in the diaspora. She is also looking at how African textiles and clothing is interpreted when worn or used by people other than Africans. Naa Densua has created numerous items of clothing for wear, in Ghana and Scotland. She currently has a gown entitled 'Obaa Sima' Virtuous Woman on display at Kelvingrove Museum and Arts Gallery.
MPhil Thesis
Decolonising African costume and textiles: Naming, symbols and meaning in the Ghanaian context [Naa Densua Tordzro]
Textiles travel with people and to people. This work which has found an intellectual home in MIDEQ and the UNESCO RILA Chair at the University of Glasgow. It is based on practice led research over several years culminating in MIDEQ Researcher Naa Densua's work in WP11 and with textiles in the Ghana China, Malaysia Nepal corridors, as well as for the UNESCO Chair at University of Glasgow.