Sustainability Spotlight, Dec 2020 - Pioneering Sustainable Labs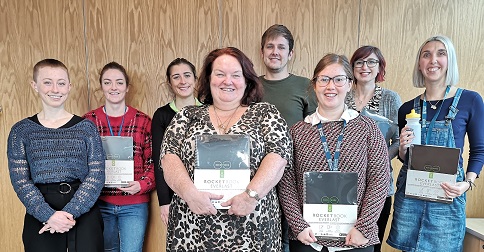 Modern laboratories have huge carbon footprints compared to other workplaces of a similar size. It is essential that steps are taken to improve efficiency and reduce waste and energy use to minimise the environmental impact of laboratory work.
The Institute of Infection, Immunity and Inflammation (III) eco-group was founded in MVLS in 2016, and includes PhD students, research staff and technicians. Since its inception, the group has introduced several initiatives aimed at reducing their environmental impact, including the introduction of laboratory recycling, electricity usage audits, shared chemical lists, and electronic laboratory notebooks. Through this work they have reduced their carbon footprint by 86.7 tonnes CO2 annually on one floor of their building alone and as a result received a Silver Award from the LEAF Lab Sustainability Award Programme. This success was supported by a GUEST student intern specialising in S-labs.
To engage with the wider academic community, they have set up a Twitter account (@ECOgroup_III), and have presented posters and talks at various away days and scientific conferences.
Moving into 2021, the UofG Chancellor's Fund has awarded the College of Science and Engineering a small fund to build on this work by increasing capacity to expand sustainable laboratories across the campus. Led by Prof Jaime Toney, the Centre's Director, in collaboration with Stewart Miller (UofG Sustainable Environment Officer), GUEST, and technicians Ali Salik, Charlotte Slaymark and Mark Wildman, this project will include two secondments for lab technicians, development of S-labs training provision and communications packs, and laboratory audits using the LEAF framework. Watch this space for more news in the New Year!
Photo of III Eco Group receiving their Silver LEAF Award, courtesy of the news item on their win.