Eco-Group
The carbon footprint of a scientist is somewhat higher than that of the average person. With our heavy use of plastics, chemicals and energy-dependent pieces of equipment, we're among the least environmentally friendly industries in the world.
In an effort to improve our green credentials, we've formed our Eco Group. Our goal is to help you reduce your carbon footprint wherever possible ranging from tips in how to reduce your electricity usage to providing increased recycling facilities.
New Logo for eco group!
With the launch of the School of Infection and Immunity, the eco group have updated their logo!
More LEAF awards for GBRC laboratories!
We have had three new laboratory effiency assessment framework (LEAF) awards in the GBRC! Congratulations to level 4 who were awarded a Bronze and levels 3 and 5 who have been awarded a Silver certificate in recognition of their efforts to improve sustainability.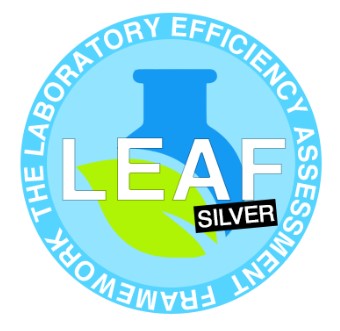 iii Green challenge winners announced!

Winning Floor - Level 3
The winning floor was Level 3 with entries from the Edgar Group, Willison group, Carmody group and the Perona-Wright Group. Great effort, everyone. A pizza night is coming your way - watch this space!
We also had great efforts from levels 4 and 5, who both get a special mention.
Most Innovative - Level 5
The award for 'Most Innovative' goes to Level 5, who have stopped unnecessary autoclaving of bovine waste tissue, which was destined for incineration anyway.
Greenest PI - Ruaidhri Carmody
With the most votes, Greenest PI is awarded to Ruaidhri Carmody. Well done, Ruaidhri!
Green Champion - Gemma Hourigan (L5)/Jennifer Barrie (L3)
And, finally, the award for Green Champion was split between Gemma Hourigan (L5) and Jennifer Barrie (L3). Congratulations to you both - your efforts are heroic!
Congratulations to everyone who took part and our winners. We will be in touch with the winners soon to hand out prizes!
In partnership with the Institute, the iii Eco-group are excited to announce the launch of the iii Green challenge!
The challenge, which will run from 01 November to 31st December, encourages each floor/Team in the GBRC to compete in a bid to introduce and encourage sustainable practices. The CVR will also be holding it's own challenge in tandem. Prizes will be given to the winning teams to get your dukes up and start doing your bit to help your floor become the greenest - officially!

Coffee morning Launch Event!

Make sure to come to the coffee morning launch event on the 27th October in the common room of the GBRC to eat some pastries, find out more about the challenge and what things you can do to gain points and reduce your carbon footprint. Make sure to bring your own mug!
New recycling scheme!!
We have now introduced a TerraCycle stationary recycling scheme! In the corridor in Level 4 you can find a box where you can recycle all Accepted waste items.
S-Lab award lunch

Members of the iii Eco-group were presented with their prize for recieving a silver S-Lab award for level 3 of the SGDB from members of the Glasgow University Sustainability team (GUEST). Rocket books were chosen as the prize as they are reusable notepads for all those times you need to scribble something down in the lab and don't have your laptop to hand! Using an app on your phone you can scan those scribbles and upload them straigh to OneNote, OneDrive or your chosen platform.
The iii Eco-group continue to work with GUEST in collaboration with the Lab Efficiency Assessment Framework (LEAF) Next to be audited is level 4.
Dr Gavin Meehan gives eco-awareness talk on behalf of the iii-eco group at this year's Immunobiology ECR symposium.
Our founder, Gavin gave a talk at this year's Early Career Researcher Symposium on the progress that has been made by the Eco-group since it's foundation in 2016. He also gave advice on how the PhD students and Post Docs in the institute can make a difference by thinking about what practices they can change to reduce their environmental impact.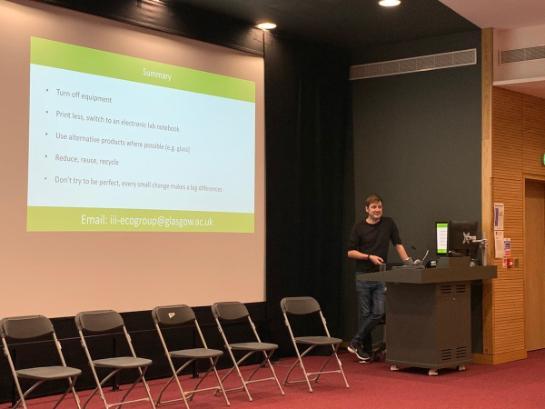 Crisp Packet recycling
There is now a crisp packet recycling bin in the L2 common room. All brands of crisp packets can be recycled with TerraCycle. No need to wash them, just flatten (no crisp packet origami) and hand them in. Once collected they will be cleaned and used create new recycled products!
Get recycling!
UPDATE:
Terracycle are no longer running a crisp-packet recycling scheme as so many supermarkets now offer crisp packet recycling. We will keep the crisp packet recycling bin in the common room and take the bags to Tesco. Let us know via the eco group email if you find the bin needs emptied as because of COVID-19 we have not been able to check as often!
iii Eco-group receives Silver S-Lab award!
We are pleased to announce that Level 3 of the GBRC has been awarded a silver S-Lab award for sustainable lab practices. Eco-group member Jennifer Barrie took the lead and worked with Ellen Bird from Glasgow University Sustainability Team (GUEST) who audited the changes put in place by the Eco-group on Level 3 of the GBRC.
Although the award was for Level 3, many of the policies have been applied throughout the building and will be having a huge impact to its carbon footprint. On Level 3 alone the changes we made will have saved the Institute £5,640 and 87 tonnes of CO2. This demonstrates the changes we are implementing are making a difference to the environmental impact of our work and saving the University money!