Marcus makes a Big Bang in Birmingham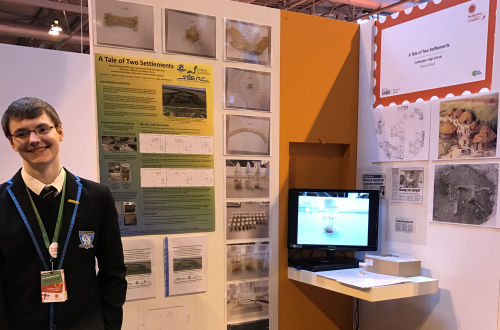 SUERC placement student Marcus Boyd has been awarded a runner-up prize in the GSK UK Young Scientist of the Year competition.
The S6 pupil from Calderglen High School was one of ten from Scotland chosen to compete for the title at The Big Bang UK Young Scientists & Engineers Competition in Birmingham last week. Marcus was named as a runner-up in the Senior Science category and was one of five entries to meet the celebrity judging panel for the top prize.
The competition, which aims to recognise and reward young people's achievements in all areas of science, technology, engineering and maths (STEM), saw candidates from across the UK present their work to the public and to a panel of celebrity judges including Tom Whipple, Dr Helen Czerski, Nikki Yates, Dr Sophie Acton and Dr Maggie Aderin-Pocock.
Marcus came to SUERC on a Nuffield Research Placement in 2016 and worked with the SUERC Radiocarbon Laboratory during the summer months.
His project "A Tale of Two Settlements" examined animal bones found at two well-known British Iron Age sites, Danebury Hillfort and Suddern Farm, in an attempt to identify if the sites were used for similar purposes. By measuring the carbon, nitrogen and sulphur contained within the bones, some insight can be gained as to whether the animals were of local origin or brought in from further afield.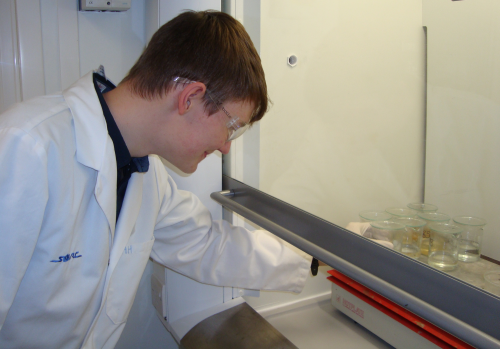 After working hard on his project report and having practiced his presentation skills at the Nuffield Celebration Event in Edinburgh last year, Marcus decided to put forward his project to the Big Bang Competition. Interviewed on BBC Radio Scotland, Marcus said "I thought I would just go in for it and see how far I could get and I was pleasantly surprised - I made it to the top five."
Marcus is currently completing his sixth year at Calderglen High School and intends to go on to study medicine or chemistry at university later in the year.
Susan Casey, Faculty Head of Physics and Science at Calderglen High School remarked upon his achievement, "We are all so proud of Marcus. Well done and a heartfelt congratulations from everyone in Calderglen High. Thanks again to SUERC for all of their support. Our pupils continue to benefit year on year from this partnership."
SUERC Director Rob Ellam added, "My congratulations to Marcus and everyone involved. SUERC staff put a lot of worthwhile effort into outreach activities, but it's extremely pleasing to see a result like this. Well done."
More information
The Big Bang
Nuffield Research Placements
Marcus' interview on BBC Radio Scotland's Good Morning Scotland can be heard on the BBC iPlayer for the next few weeks.
---
First published: 19 March 2017