SET for Britain - Fraser Stewart
Issued: Tue, 06 Dec 2016 14:55:00 GMT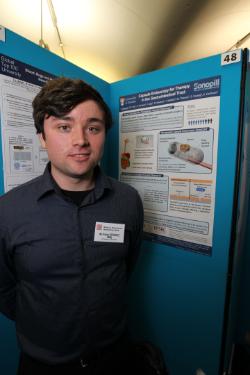 A PhD student from the University of Dundee is getting ready to present his biomedical research to a panel of politicians and expert judges next month.
Fraser Stewart has entered Set for Britain, a series of poster competitions and exhibitions in the House of Commons which encourages and promotes Britain's early-career research scientists, engineers, technologists and mathematicians.
Fraser's research is part of the Sonopill Programme, which explores ultrasound imaging and treatment capabilities in capsule format. He aims to use this method to help fight Crohn's disease, an inflammatory bowel condition which affects more than 100,000 people in the UK.
Current treatments for the disease are non-curative and can carry adverse side effects. Fraser hopes to prove using focused ultrasound in a capsule endoscope format will reduce these side effects, promote increased drug uptake into the bowel wall and improve patient quality of life.
"It's really exciting to be able to present our work on the treatment of Crohn's Disease to Parliament," he said.
"It will be a great experience to be able to discuss it personally with MPs and will hopefully help them understand the advantages of this new emerging technology."
Dr. Ben Cox, Clinical Research Fellow for the Sonopill Programme, said:
"Fraser's research holds a great amount of promise to help not just with the treatment of Crohn's Disease but potentially improve the treatment of other gastrointestinal disorders"
Stephen Metcalfe MP, Chairman of the Parliamentary and Scientific Committee, said:
"This annual competition is an important date in the parliamentary calendar because it gives MPs an opportunity to speak to a wide range of the country's best young researchers.
"These early career engineers, mathematicians and scientists are the architects of our future and SET for Britain is politicians' best opportunity to meet them and understand their work."
For more information on the competition, visit http://www.setforbritain.org.uk/
---