Emerging Exploration in Peru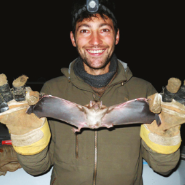 Dr Daniel Streicker is a Wellcome Trust/Royal Society Sir Henry Dale Fellow working at the CVR and IBAHCM. His research looks at the way that pathogens are transmitted between species, with a hope that a better understanding of the ecological and evolutionary factors will allow us to prevent disease spread in future. Daniel has spent time in Peru investigating the frequency that vampire bats spread rabies to humans and livestock.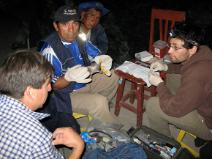 His team focus their work around bats, a key group for both newly emerging and well-established zoonotic diseases. Some of the most exciting questions we are addressing right now are: Is culling an effective tool for the control of vampire bat transmitted rabies in Latin America? What ecological and evolutionary factors govern the diversity of viruses in bats and which of these pose the greatest threats to domestic animals? And are there generalised genomic signals of RNA virus host range and human adaptation.
The consequences of zoonotic diseases are severe. Every year it is estimated that over one billion people become ill due to the pathogens of other species, with up to one million deaths. Ecological and evolutionary approaches can help alleviate this burden by devising control strategies that are grounded in understanding the dynamics of host-pathogen systems.
Read more about the work of Daniel's team –