Developing technologies for the control of viral diseases in cats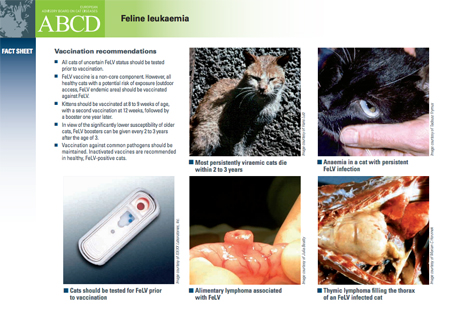 In Europe, over 30 million domestic cats are vaccinated each year against three core virus infections. Research performed by the University of Glasgow has made a significant contribution to controlling the major feline viral diseases, supported by industrial collaborations.
Vaccine development
Feline leukaemia virus (FeLV) was discovered by University of Glasgow researchers in 1962, associated with lymphoma and leukaemia in cats; in 1993, University of Glasgow and Merial collaborated to develop a new FeLV vaccine; University of Glasgow provided FeLV constructs based on the Glasgow-1 virus strain and tested vaccine efficacy. This highly efficacious vaccine is used widely to protect cats against FeLV infection.
The feline lentivirus feline immunodeficiency virus (FIV), is widespread worldwide and induces clinical signs resembling human acquired immunodeficiency syndrome (AIDS). University of Glasgow researchers Margaret Hosie and Brian Willett, supported by funding from research councils, charities and industrial partners, have contributed significantly to the understanding of immunity to FIV and in vaccine development.
Since 2010, University of Glasgow has hosted the European reference laboratory for feline calicivirus (FCV), funded by Merial SAS.
Data from this project will potentially improve understanding of immunity against FCV infection; this has comparative significance for the development of vaccines against the closely related human norovirus, a leading cause of acute gastroenteritis.
Diagnostic services
Diagnostic tests developed at the University of Glasgow are made available through the Glasgow Veterinary Diagnostics Service. These tests have been used in big cat species, which are also susceptible to viruses such as FIV and FeLV. Profs Willett and Hosie have adapted tests developed for domestic cats for use in big cats held in European captive-breeding programmes. These tests are required for the safe transfer of animals between zoos, and - according to veterinary advisors - the University of Glasgow offers the most comprehensive feline virus testing service. We have provided these bespoke tests for some of the world's rarest big cat species such as the Amur leopards (just 130 animals worldwide), Asiatic lions and Iberian lynx.
Veterinary care
Prof Hosie's research on feline viral diseases has yielded expert advice for veterinary practitioners in domestic pet practice. She is one of four UK experts on the 17-member European Advisory Board for Cat Diseases (ABCD). This organisation provides evidence-based guidelines for the prevention and management of major feline infectious diseases, including the choice of vaccines and vaccination protocols. Prof Hosie has led the development of ABCD guidelines for the prevention and management of FIV; and a 'Matrix' guideline that offers veterinarians guidance in conducting interviews with pet owners to determine vaccination strategies appropriate to the lifestyle, geographical location and disease risk of each cat.
These guidelines are highly regarded with significant clinical use.