We are engaged in a wide range of research in experimental psychology, cognitive neuroscience, language, perception, statistics and research methods in psychology, social robotics, and health cognition. We have a strong presence in the field of neuroimaging and brain stimulation. Our work has links with fundamental and clinical neuroscience.
Overview
At any time we comprise about 35 academics, 2 Fellows (Marie Curie and Adam Smith), 20 research associates/assistants and large postgraduate community (60 students, including PhD-, Masters- and visiting students). Our staff have many ongoing, funded research projects and receive major research funding from the Wellcome trust, BBSRC and ESRC.
Using diverse approaches and paradigms, our research aims to advance our understanding of behaviour and the underlying mental processes and brain function at multiple levels of analysis.
Researchers are grouped across the School of Psychology, the Centre for Social, Cognitive and Affective Neuroscience (cSCAN), and the Centre for Cognitive Neuroimaging (CCNi), which provides state-of-the-art functional neuroimaging facilities. Many investigators have double affiliations with links to the Institute of Neuroscience & Psychology, which span two colleges (Science & Engineering, and Medical, Veterinary & Life Sciences), and integrates research from molecular to system neuroscience across a broad spectrum of interdisciplinary and translational programmes.
More information
Study options
Psychology, PhD: 3 years full-time or 5 years part-time
Psychology, MSc (Res): 1 year full-time or 2 years part-time
Entry requirements
2.1 Honours degree or equivalent
Required documentation
Applicants should submit:
Transcripts/degree certificate
Two references
A one-page research proposal
CV
Name of potential Supervisor
Research proposal
Candidates are required to provide a single page outline of the research subject proposed (approximately 1000 words). This need not be a final thesis proposal but should include:
a straightforward, descriptive, and informative title
the question that your research will address
an account of why this question is important and worth investigating
an assessment of how your own research will engage with recent study in the subject
a brief account of the methodology and approach you will take
a discussion of the primary sources that your research will draw upon, including printed books, manuscripts, archives, libraries, or museums
an indicative bibliography of secondary sources that you have already consulted and/or are planning to consult
English Language requirements for applicants whose first language is not English.
Fees and funding
Fees
2020/21
£4,407 UK/EU
£21,920 outside EU
Prices are based on the annual fee for full-time study. Fees for part-time study are half the full-time fee.
Additional fees for all students:
Re-submission by a research student £525
Submission for a higher degree by published work £1,315
Submission of thesis after deadline lapsed £340
Submission by staff in receipt of staff scholarship £765
Depending on the nature of the research project, some students will be expected to pay a bench fee (also known as research support costs) to cover additional costs. The exact amount will be provided in the offer letter.
Alumni discount
A 10% discount is available to University of Glasgow alumni. This includes graduates and those who have completed a Junior Year Abroad, Exchange programme or International Summer School at the University of Glasgow. The discount is applied at registration for students who are not in receipt of another discount or scholarship funded by the University. No additional application is required.
Funding for EU students
The UK government has confirmed that EU nationals will remain eligible to apply for Research Council PhD studentships at UK institutions for 2019/20 to help cover costs for the duration of their study. The Scottish Government has confirmed that fees for EU students commencing their studies in 2019/20 and 2020/21 will be at the same level as those for UK students.
2019/20 fees
£4,327 UK/EU
£21,020 outside EU
Prices are based on the annual fee for full-time study. Fees for part-time study are half the full-time fee.
Additional fees for all students:
Re-submission by a research student £500
Submission for a higher degree by published work £1,250
Submission of thesis after deadline lapsed £320
Submission by staff in receipt of staff scholarship £730
Depending on the nature of the research project, some students will be expected to pay a bench fee (also known as research support costs) to cover additional costs. The exact amount will be provided in the offer letter.
Funding
Support
We are focussed on providing excellent learning support for our postgraduate students in order to promote student success. Student success includes both an in-depth knowledge of psychology (acquired through taught courses and direct supervision), and also the development of key skills that are crucial to academic development and are transferable to the workplace. Our graduate student seminar programme also forms an essential part of training.
Our aim of offering learning and student support of the highest quality has been recognised both by students and by accrediting organisations – in the most recent National Student Survey, we were ranked 3rd in the UK Russell Group of all UK psychology departments.
You will be part of a Graduate School which provides the highest level of support to its students.
The overall aim of our Graduate School is to provide a world-leading environment for students which is intellectually stimulating, encourages them to contribute to culture, society and the economy and enables them to become leaders in a global environment.
We have a diverse community of over 750 students from more than 50 countries who work in innovative and transformative disciplinary and interdisciplinary fields. An important part of our work is to bring our students together and to ensure they consider themselves an important part of the University's academic community.
Being part of our Graduate School community will be of huge advantage to you in your studies and beyond and we offer students a number of benefits in addition to exceptional teaching and supervision, including:
A wide-ranging and responsive research student training programme which enables you to enhance your skills and successfully complete your studies.
Mobility scholarships of up to £4000 to enable you to undertake work in collaboration with an international partner.
A diverse programme of activities which will ensure you feel part of the wider-research community (including our biannual science slam event).
A residential trip for all new research students.
The opportunity to engage with industry-partners through training, placements and events.
Professionally accredited programmes.
Unique Masters programmes run in collaboration with other organisations.
State-of-the-art facilities including the James Watt Nanofabrication Centre and the Kelvin Nanocharacterisation Centre.
Highly-rated support for international students.
Over the last five years, we have helped over 600 students to complete their research studies and our students have gone on to take up prestigious posts in industries across the world.
Email: scieng-gradschool@glasgow.ac.uk
Collaborations
We are an international School whose academics have been trained in the UK and worldwide (France, Belgium, Germany, Italy, Switzerland, the US), with links to many top-ranked Psychology and neuroimaging unit in the UK and abroad. Members of staff have prominent collaborations with:
the Max Planck Institute (Ger)
the Italian Institute of technology
the Montreal Neurological Institute
McGill University (Can)
the Donders Institute for Brain, Cognition and Behaviour
Radboud University
How to apply
Identify potential supervisors
All Postgraduate Research Students are allocated a supervisor who will act as the main source of academic support and research mentoring. You may want to identify a potential supervisor and contact them to discuss your research proposal before you apply. Please note, even if you have spoken to an academic staff member about your proposal you still need to submit an online application form.
You can find relevant academic staff members with our staff research interests search.
Gather your documents
Before applying please make sure you gather the following supporting documentation:
Final or current degree transcripts including grades (and an official translation, if needed) – scanned copy in colour of the original document
Degree certificates (and an official translation, if needed): scanned copy in colour of the original document
Two references on headed paper (academic and/or professional).
Research proposal, CV, samples of written work as per requirements for each subject area.
Submitting References
To complete your application we will need two references (one must be academic the other can be academic or professional).
There are two options for you to submit references as part of your application. You can upload a document as part of your application or you can enter in your referee's contact details and we will contact them to request a reference.
Option 1 – Uploading as part of the application form
Your references should be on official headed paper. These should also be signed by the referee. You can then upload these via theOnline Application form with the rest your documents to complete the application process.
Please be aware that documents must not exceed 5MB in size and therefore you may have to upload your documents separately. The online system allow you to upload supporting documents only in PDF format. For a free PDF writer go to www.pdfforge.org.
Option 2 - Entering contact details as part of the application form
If you enter your referees contact details including email on the application form we will email them requesting they submit a reference once you have submitted the application form. When the referee responds and sends a reference you will be sent an email to confirm the university has received this.
After submitting your application form
Use our Applicant Self Service uploading documents function to submit a new reference. We can also accept confidential references direct to rio-researchadmissions@glasgow.ac.uk, from the referee's university or business email account.
Apply now
I've applied. What next?
If you have any other trouble accessing Applicant Self-Service, please see Application Troubleshooting/FAQs.
If you are requested to upload further documents
Log into the Applicant Self Service and scroll down to the Admissions Section. The screenshot below indicates the section on the page, and the specific area you should go to, highlighted in red:
Documents must be uploaded in .jpg, .jpeg or .pdf format and must not exceed 5MB in size. There is a maximum 10MB upload size for all documents with the application.
Decisions
Once a decision has been made regarding your application the Research Admissions Office will contact you by email.
If you are made an unconditional offer
You can accept your offer through the Applicant-Self-Service by clicking on the 'Accept/Decline link' for your chosen programme under the 'Admissions Section' at the bottom of the Applicant Self Service screen. You can access the Applicant Self Service by using the link, username and password you used to apply and selecting the "Self Service" button below your application.
Please make sure you accept your unconditional offer within 4 weeks of receiving your offer. If you are an international student your CAS will not be issued until you have accepted an unconditional offer.
If you are made a conditional offer
If you accept a conditional offer then the offer status on Applicant-Self-Service will change to 'incomplete' to indicate that the application is incomplete until such time as all the conditions are met.
Your offer letter will list all the conditions that apply to your offer and you can upload the required document(s) through Applicant Self Service. If you have met the conditions satisfactorily, you will automatically be sent an unconditional offer.
If your application is unsuccessful
If your application is unsuccessful then we will send you an email to inform you of this which will outline the reason why we have been unable to offer you a place on this particular programme. Please note that your application status will be updated to 'Cancelled' on Applicant Self Service if the offer is rejected.
Deferring your offer
If you want to defer your start date, please contact us directly at rio-researchadmissions@glasgow.ac.uk. We need authorisation from your supervisor before we confirm your request to defer. Once we have this we will contact you by email to confirm.
How to register
After you have accepted an unconditional offer you will receive an email nearer to the start of your studies to tell you how to register online using the University's MyCampus website, the University's student information system. That email will provide you with your personal login details and the website address. Please ensure that your email address is kept up to date as all correspondence is sent via email. You can update your email address through the Applicant Self Service Portal under the Personal Information section.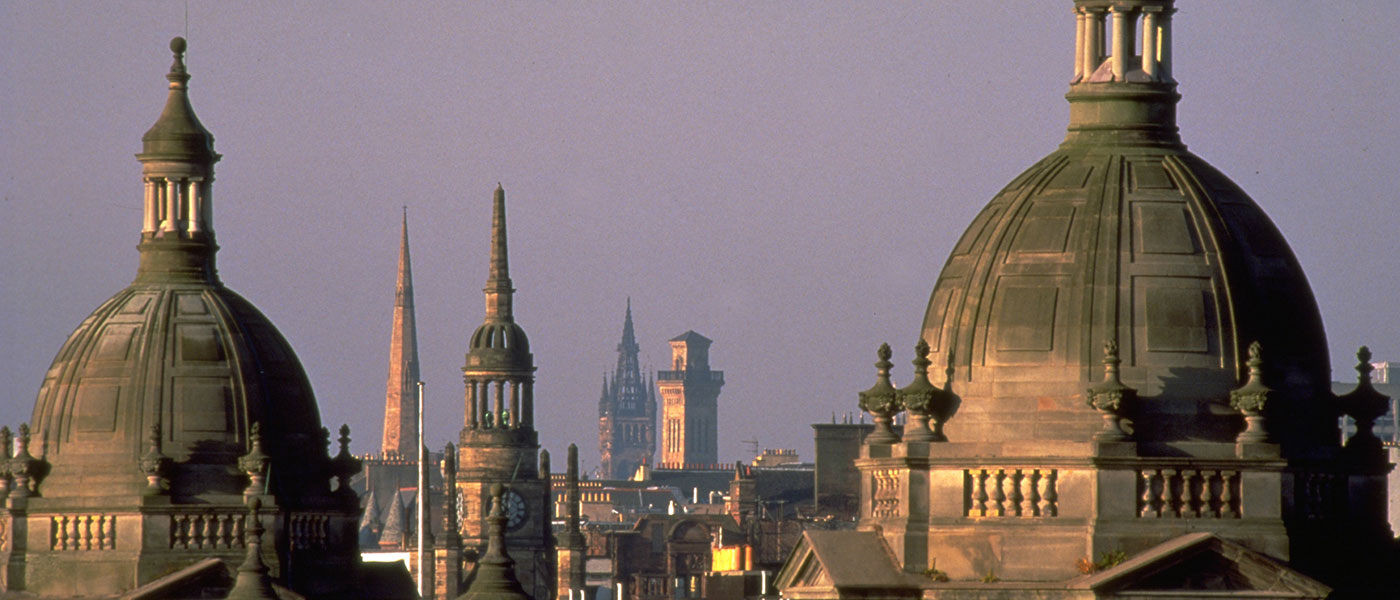 Our top ten city
A 2019 TimeOut survey places Glasgow in the top ten cities in the world. Ranked between Berlin and Paris, Glasgow was voted number one for both friendliness and affordability.