Virtual Reality Classrooms and Teaching Resources to be created by University of Glasgow
Published: 12 November 2018
Academics at the University's College of Arts in collaboration with Glasgow-based Sublime, have been awarded funding from Innovate UK to build a higher education virtual reality (VR) platform.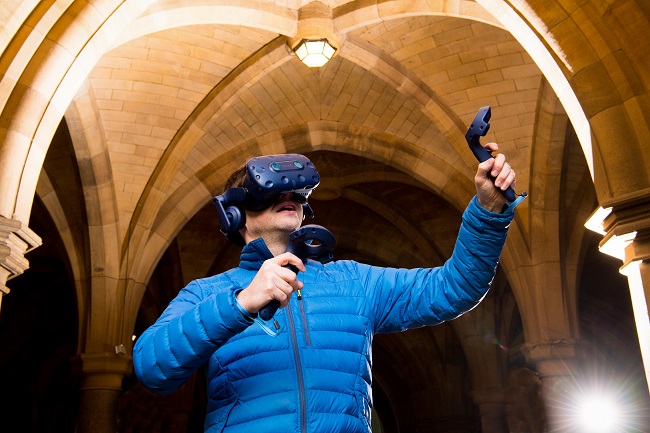 Ever wondered what it would be like to travel inside the human body?
How about going back in time to use the first printing press or go on a field trip without even leaving your classroom?
Soon students at the University of Glasgow and around the world will be able to do just that.
Academics at the University's Centre for the Study of Perceptual Experience in the College of Arts, in collaboration with Glasgow-based Sublime, have been awarded funding from Innovate UK for their £1 million Project Mobius to build a higher education virtual reality (VR) platform.
Immersive technology, which includes virtual and augmented reality, is changing how people interact with content in their daily lives.
The three-year University pilot will use this immersive technology to create high-quality teaching apps or lectures which will be housed on a bespoke higher education VR platform.
It will allow students in Glasgow, studying topics including physics, chemistry, geology, anatomy, philosophy and history, to receive schooling through a VR teaching and learning experience.
Dr Neil McDonnell, Lord Kelvin Adam Smith Research Fellow in Virtual Reality and Augmented Reality (Philosophy), said: "This is a very exciting project which will help us gain a deeper understanding of how people learn and retain information. This technology will allow university students to travel inside a human body or take a visit to an important geological area from their lecture.
"The more students use the VR classrooms, the more data is generated on how students grasp and understand what they are being taught through this medium. This allows us to respond, evolve our approach and build exceptional teaching resources."
Professor Fiona Macpherson, Principal Investigator on the project and Director of the Centre for the Study of Perceptual Experience said: "We believe that Project Mobius has huge and positive implications for educators and students. By harnessing the positives of immersive technology we will create a teaching experience that helps students gain insights and knowledge not currently open to them without VR.
"Project Mobius is an exciting new addition to those based in the Centre. It adds to our research on all aspects of virtual and augmented reality including the nature of reality and perceptual experience, and the enormous impact that these technologies will have on our lives."
Professor Roibeard Ó Maolalaigh, Vice Principal and Head of the College of Arts, said: "This project based in the College of Arts has captured the imagination of all those collaborating on it in a range of disciplines across the University of Glasgow.
"This new immersive learning and teaching experience will help broaden and deepen students' understanding and ultimately help to better prepare students for their working lives. It is an excellent example of the positive impact of our world-changing research in Arts and Humanities."
Project Director for Sublime Fergus Bruce said: "Sublime are thrilled to be the recipients of such a significant innovation grant – which is key to projects like this getting off the ground – and to be collaborating with one of the world's leading universities, right on our doorstep.
"On one hand, there is much still to be understood about the nature of the learning process, and how we can change and improve it; and on the other, education per se contains some of the more immediate, difference-making use cases to be found amongst the huge opportunities offered by new visualisation technology.
"Project Mobius will help both answer the former and deliver on the latter by combing the expertise of two leaders in their fields."
CEO and Co-Founder of Sublime Martin McDonnell said: "Our aim as a business is to transform the worlds of learning, work, and more using new Digital Realities technologies, and Project Mobius aligns perfectly with that.
"Not only is it our second Innovate UK funded project to commence this year, but it will present a unique challenge to us as creators of software for broad audiences. We want to better connect those audiences to their projects, subjects, and the data they both use and generate.
"Mobius will also enable cross-pollination of our research and discovery with a much broader view of how these new technologies - and the new realities they allow us to access - will impact us socially, economically, and personally. We're excited to be moving ahead with the project with such an amazing collaborator, and as the project matures it will harness Sublime's international profile to generate broader economic benefits for Scotland."
Ten VR teaching resources were picked to go forward to the Glasgow pilot after being championed by lecturers teaching in these subject areas. The resources will now be developed and tested by the lecturers and students. Initially the University will build two high tech VR labs or classrooms with capacity for 15 students each at a time.
Such an ambitious project requires extensive testing, and Glasgow will use the Innovate UK funding to establish test-bed partnerships with universities from across the world.
Partner institutions will be able to benefit from these 10 apps, and the Mobius platform, within two years. The eventual aim is to translate these VR resources into other languages and have students and academics around the world benefitting from this cutting-edge project.
Sublime is pioneering the future of Digital Realities (VR & AR) with a range of solutions covering hardware, software and content. Digital Realities is the window to our data and visual content. Sublime solutions are aimed at transforming the world of work and learning, enhancing human capabilities and providing next level immersive experiences.
---
For more information contact Aine Allardyce in the University of Glasgow Communications and Public Affairs Office on 0141 330 7126 or email aine.allardyce@glasgow.ac.uk
First published: 12 November 2018