University of Glasgow part of worldwide initiative to preserve art conservation skills
The Getty Foundation has announced the launch of Conserving Canvas, a new initiative that aims to ensure that critical conservation skills needed to care for paintings on canvas do not disappear.
Conserving Canvas will keep much-needed skills alive through a number of grants that support the conservation of paintings, workshops, seminars, training residencies, and a major symposium.
The initiative's initial projects support the study and conservation of world-renowned works on canvas, including Thomas Gainsborough's The Blue Boy (1770), Anthony van Dyck's Equestrian Portrait of Charles I (1637-8), and François Boucher's Vertumnus and Pomona (1757).
The inaugural Conserving Canvas grantees include University of Glasgow; The Huntington Library, Art Collections, and Botanical Gardens, San Marino, California; the National Gallery, London; Fine Arts Museums of San Francisco; Statens Historiska Museer, Sweden; Stichting Restauratie Atelier Limburg, the Netherlands; and Yale University.
Deborah Marrow, director of the Getty Foundation said: "Through extensive consultation with specialists in the conservation field including experts at the Getty, we heard that there is a growing skills gap between senior conservators who learned treatments of paintings on canvas decades ago and newer museum conservators who need to address pressing problems for paintings in their own collections.
"Conserving Canvas creates opportunities for international collaboration among conservation professionals, so that critical knowledge can be shared, discussed, and disseminated."
Canvas supports became popular at the end of the 15th century, and have continued to be the primary material on which painters create their work. For centuries, it was common for restorers and conservators to protect these paintings by backing or lining them with another canvas to add general structural strength or repair rips and tears. As these linings age, some can create strains on the original canvas that cause the paint layer to separate and "cup" away from the fabric support. In other instances bubbles can form, often significantly disfiguring the painted image.
Recent decades have seen the field embrace minimal intervention for paintings on canvas - altering an existing artwork as little as possible - as best practice, but this comes at a price. Today many paintings in museum collections around the world that were lined - and now have structural failures - are not being treated, largely because conservators feel insufficiently experienced with existing practices for safe intervention.
While this loss of 'bench skills' is a concern for the field-at-large, it is particularly pressing for the care of paintings on canvas. There are thousands of old master paintings on fabric supports that were lined in the past, and these works are now beginning to need re-treatment. In addition, modern and contemporary paintings - especially larger works - tend to be more delicate due to the often experimental nature of artist's materials and techniques. If the issue is not addressed, several generations of conservators are at risk of not being prepared to care for masterpieces on canvas in collections worldwide.
Conserving Canvas will foster inter-generational and inter-organizational sharing of information and best practices by creating opportunities where conservators can regain knowledge about past conservation techniques, work together to make decisions, and experience hands-on training. To this end, a major symposium that addresses the state of the field, the first such meeting since 1974, will be held at Yale University in October 2019.
"For years museum conservators have adopted a 'wait and monitor' approach to any major structural intervention on canvas paintings. But the danger is that once treatment can no longer be delayed, the experts with direct knowledge of lining and re-lining won't be there to offer help," says Antoine Wilmering, senior program officer at the Getty Foundation.
"The field will benefit when conservators are aware of the full range of treatment options available for canvas paintings, whether that is lining or re-lining the canvas, removing a lining and its adhesives, tear mending or re-weaving losses in a canvas, or any other type of intervention. Conserving Canvas will provide international dialogue and opportunities to see these techniques in action so that professionals can advance their practice before it's too late."
At the University of Glasgow, a Getty grant of £115,000 (for 2018) is bringing pairs of conservators-curators to the College of Arts and The Hunterian at the University of Glasgow for training workshops related to the conservation of five canvas paintings from The Hunterian and the National Galleries of Scotland, including Sir Joshua Reynolds's Lady Maynard (c.1759-60).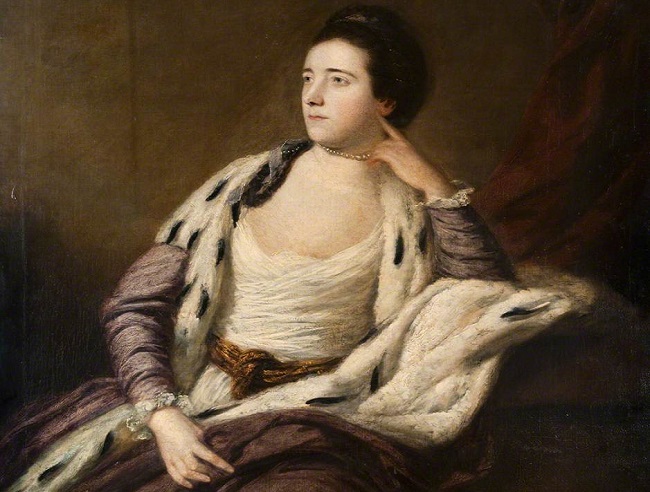 The UofG workshops, which focus on the interdisciplinary involvement of both curators and conservators, are conceived around the principle that canvas conservation is part of a holistic process which interrelates all aspects of the condition, aesthetic, interpretation, and presentation of the painting.
Participants will research the evolution of lining materials and techniques, and review how past structural treatments affect a painting's appearance. They will also examine the visual presentation of paintings with different approaches to treatments with reference to the collections at The Hunterian, National Galleries of Scotland, Glasgow Museums, and Yale University. Afterwards they will complete individual month-long residencies in Scotland to treat the five selected paintings.
The J. Paul Getty Trust is an international cultural and philanthropic institution devoted to the visual arts that includes the J. Paul Getty Museum, the Getty Research Institute, the Getty Conservation Institute, and the Getty Foundation. The J. Paul Getty Trust and Getty programs serve a varied audience from two locations: the Getty Center in Los Angeles and the Getty Villa in Malibu.
The Getty Foundation fulfills the philanthropic mission of the Getty Trust by supporting individuals and institutions committed to advancing the greater understanding and preservation of the visual arts in Los Angeles and throughout the world. Through strategic grant initiatives, the Foundation strengthens art history as a global discipline, promotes the interdisciplinary practice of conservation, increases access to museum and archival collections, and develops current and future leaders in the visual arts. It carries out its work in collaboration with the other Getty Programs to ensure that they individually and collectively achieve maximum effect.
---
First published: 2 August 2018