University of Glasgow's Fantasy Night at the Museum
Can you find the University of Glasgow's equivalent of Hogwarts School of Witchcraft and Wizardary's Sorting Hat? Do you know where in Scotland you could find evidence of the legend of King Arthur? Or would you like to discover what real life creatures inspired the story of the Loch Ness monster?

These are just some of the questions visitors to the University of Glasgow's Night at the Museum: Fantasy Scotland will be able to answer if they join us on Friday 24 November.

Scotland's oldest public museum - The Hunterian - will play host to the exciting event which will celebrate the world of fantasy fiction.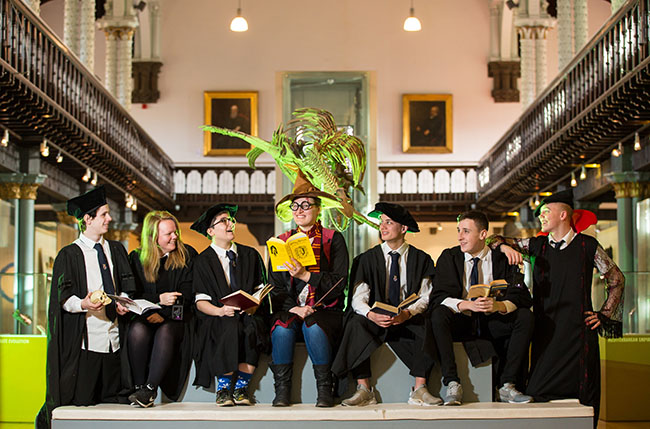 Pupils from Hillhead High School and some of the University of Glasgow's students today (30 October 2017) got a sneak preview at The Hunterian of some of the artefacts visitors will see at the Fantasy Night at the Museum event.

The idea for this year's event is inspired by the University's newly established postgraduate programme – MLitt English Literature: Fantasy. The Hunterian will come to life for one night only to celebrate Scotland's reimagined histories and heritage from J M Barrie's Peter Pan and J K Rowling's Harry Potter to the historical time travel Outlander novels and TV series.

Modern Scottish fantasy as portrayed in literature, film and TV will provide a backdrop for this dazzling Night at the Museum.

The organisers of the event have promised that there will be something for everyone from the young to the not so young to enjoy.

Visitors to Night at the Museum will be able to enjoy musical and literary performances, games, themed activity stations and there will even be some library treasures on show for this event only.

Dr Rob Maslen, Senior Lecturer in English Literature at the University of Glasgow and director of the Fantasy MLitt programme, said: "Fantasy is among the most popular and recognisable genres of the 21st century.

"It has transformed Scottish culture and the way people around the world imagine Scotland in recent years. This is a chance to find out how. We think you'll be surprised as well as entertained!"

The event is being supported by Scotland's Winter Festivals as part of the celebrations for St Andrew's Day. Scotland's Winter Festivals is a programme of events managed by EventScotland, part of VisitScotland, on behalf of the Scottish Government.

Dr Alasdair Allan, Minister for International Development and Europe with the Scottish Government, said: "Scotland's Winter Festivals is an exciting and diverse events programme, offering Scots both at home and abroad the chance to celebrate everything great about our wonderful country during the winter months.

"St Andrew's Day presents a powerful opportunity for Scots to keep the spirit of St Andrew alive by coming together in celebration and the Night at the Museum: Fantasy Scotland allows them to do just that in the atmospheric surroundings of Scotland's oldest public museum the Hunterian"

Professor Kevin O'Dell, Dean of Public Engagement at the University of Glasgow, said: "The University is delighted to be putting on this exciting public event.

"It is a wonderful way to showcase the versatility of what happens every day in our University – from learning about fantasy fiction to our amazing collection of artefacts at The Hunterian.

"I know it will be a night to remember and hope everyone enjoys the fun and entertainment of this exciting Fantasy Night at the Museum. "

Steph Scholten, Director of The Hunterian said: "As former chair of the Museum Nights organisation in Amsterdam, I'm delighted to see The Hunterian as the backdrop for this Night at the Museum.

"It's great to see the museum alive at night with visitors from all over Scotland, enjoying our world-class collections alongside live music and performances."

The three hour event is free, although those who wish to attend will have to book online as a ticket is required for entry. Booking is essential due to limited space via Eventbrite.

The event from 7pm-10pm is supported by Scotland's Winter Festivals as well as the Being Human Festival 2017

If you aren't lucky enough to get ticket for this Hunterian event then there are dozens of other events happening across Glasgow and Scotland to choose from as part of Scotland's Winter Festivals website or the Being Human Festival website.

The Hunterian is open Tuesday-Saturday 10am-5pm and Sundays 11am-4pm each week and admission is free to see for yourself why it is considered to be one of the best university museums in the world. Founded in 1807, The Hunterian is Scotland's oldest public museum and home to one of the largest collections outside the National Museums. The Hunterian continues in its Age of Enlightenment mission to be a central resource for research and teaching in the arts, humanities and natural and medical sciences, attracting scholars and visitors from around the world.
Scotland's Winter Festivals – St Andrew's Day, Hogmanay and Burns Night – celebrate Scotland's rich culture and heritage and you can find information on events, offers, free activities and attractions that are happening across the country. St Andrew is the patron saint of Scotland and originally St Andrew's Day was a way for homesick Scots to get together and celebrate their shared ancestral roots. The official national day began in America on 30 November 1729 to offer support to Scottish migrants in distress. Today St Andrew's Day presents a powerful opportunity for Scots to keep the spirit of St Andrew alive, by coming together and helping others within their community.
There are many ways to get involved and celebrate Scotland's cultural strengths and core values this St Andrew's Day. A wide range of events will take place across Scotland from Friday 17th November until 3rd December and full details of these and ways to support local communities will be shared on www.scotland.org/winter from early November. Wherever you are in the world, you can join Scotland in celebrating St Andrew's Day – from the United States and Canada to Australia, from Beijing to Bangladesh. Those who want to learn more about the traditional celebrations are encouraged to visit scotland.org/standrewsday
The Being Human Festival is taking place across the UK from the 17-25 November 2017. It is a national forum for public engagement with humanities research. The festival highlights the ways in which the humanities can inspire and enrich our everyday lives, help us to understand ourselves, our relationships with others, and the challenges we face in a changing world.
---
First published: 30 October 2017