Glasgow-Nankai partnership shares funding to research urban transformation in China
George Osborne, the Chancellor of the Exchequer, has announced that a joint research project between the University of Glasgow in Scotland and Nankai University in China has shared a £1.5m award focused on urban transformations in China.
Three joint teams of UK and Chinese researchers have been funded by the Economic and Social Research Council and the National Natural Science Foundation of China (NSFC), Mr Osborne announced in China where he is leading a trade mission.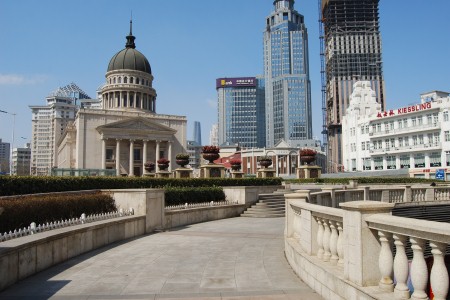 The Glasgow/Nankai project, The Re-making of Chinese Urban Neighbourhoods, will examine the current urbanisation process in China through the perspective of neighbourhood dynamics in three different cities - Tianjin, near Beijing, in the North China Plain; Hangzhou in the Yangtze River Delta; and Chengdu in the Sichuan Basin - each representing a fast-developing region in the country. The aim is to better understand the processes of social and spatial transformation, their impacts on social and economic differentiation, and the implications for emerging inequalities of income and access of key public services.
Since 2000, China's urban population has increased from 460 million to 750 million; the number of cities with a population of over 1 million has grown from 90 to 133; and the built-up area of major cities has expanded by almost 60%.
At the same time, rural-to-urban migration, along with inter-urban migration – especially of recent graduates – has led to the diversification of the socio-economic profile of Chinese cities. This in turn is creating new forms of social stratification and segregation within urban society.
A multi-disciplinary consortium of 16 academics from Urban Studies and the Scottish Centre for China Research at the University of Glasgow and the Zhou Enlai School of Government at Nankai University in Tianjin will work together.
The project builds on a long-standing and growing partnership between the two universities, which will launch a joint graduate school in October. The Glasgow-Nankai Joint Graduate School is the first postgraduate higher education programme to be set up on a Chinese university campus in partnership with a UK institution.
"The focus of this project is on urban neighbourhoods which are experiencing profound spatial and socio-economic transformations as continuous market reforms play out into city life," said Professor Ya Ping Wang, Chair in Global City Futures and the Principal Investigator of the project at the University of Glasgow.
The project is seen as being important for the Chinese authorities in terms of future planning and management of urban areas.
"One of the areas we shall also be looking at is the provision of public services – education, schools, health centres and social support," said Professor Wang.
Find out more
---
First published: 23 September 2015