Anyone for 16th-century tennis?
As Andy Murray prepares to take on Frenchman Adrian Mannarino in his attempt to reach the third round of the US Open today, the University of Glasgow is celebrating its own tennis victory.


Archivists in the university's Special Collections library have uncovered what they believe to be the earliest images of a game of tennis.

They were discovered in a newly acquired book for the renowned Stirling Maxwell Collection and it is believed the images date back to 1540.

They feature two bearded gentlemen carrying what appear to be primitive looking tennis racquets, a tennis ball and the scene appears to be in surroundings that closely resemble a real tennis court.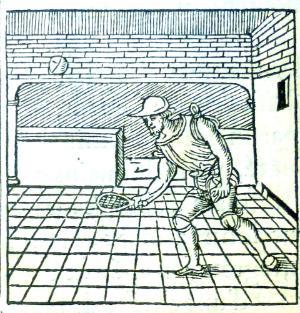 The images were discovered in the Guillaume de La Perrière, Le theatre des bons engins, Paris: Denis Janot, [1540], one of the books recently acquired by the University Library.

The book is among several newly acquired books currently on display at the Emblem Conference, being held at the University of Glasgow.

Professor Laurence Grove, French and Text/Image Studies (French) said:
"Part of the fun of history is it allows us to connect with what's happening today. By having the world's best collection of picture books we can compare the images of yesteryear with those of Andy Murray taking on Mannarino today.

"The images are clearly of a jeu de paume – an earlier form of what we now know as tennis – and these are the earliest printed images of such a match."

Leading researchers and academics are attending the University of Glasgow's 'Emblems and Everyday Life' conference, a meeting of the British Branch of the Society for Emblem Studies. The conference is being held in the Stirling Maxwell Centre September 2-4.


---
Media enquiries: Jane Chilton, 0141 330 7126 / jane.chilton@glasgow.ac.uk
First published: 3 September 2015