Student entrepreneurs face off in tech pitching competition
Published: 4 September 2015
A student-developed app which aims to help users broaden their social or professional circles has taken the top prize in a School of Computing Science technology-pitching competition.
A student-developed app which aims to help users broaden their social or professional circles has taken the top prize in a School of Computing Science technology-pitching competition.
Three teams of students competed against each other in a Dragon's Den-style event on Thursday 3 September, pitching their ideas for businesses to a panel of judges which included successful Scottish entrepreneurs and early-stage investors. The winning app, NomYap, was developed by students Omar Tufayl and Justinas Bikulcius, who each received Nexus 5 phones as prizes.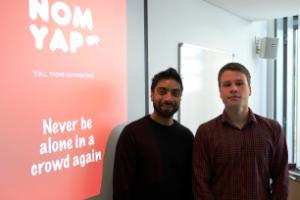 The event was the culmination of the School of Computing Science's involvement in the SICSA Elevate Business Accelerator Programme. The programme provides student entrepreneurs with business training, mentoring and support. SICSA, the Scottish Informatics and Computing Science Alliance, brings together 14 Scottish universities to support and facilitate collaborate collaboration between its members.
Jill Ramsay, Business Development Manager at the School of Computing Science, organised the event. She said: "We were really impressed by the high quality of the pitches put forward by each of the teams. The School places a great deal of emphasis on the importance of entrepreneurship for students. The participants have worked hard to develop and hone their ideas and apply their technical sklls to generate business ideas with lots of potential to be very successful. "I'd like to congratulate Omar and Justinas on their achievement and wish all three teams success in the future for their ideas."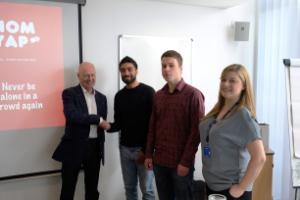 NomYap is a social app bringing people together who don't know each other. It enables people looking to broaden their social or professional circles to meet and eat by sharing details of their interests, location and availability through the app. The app will be marketed to students in the first instance as large, rich and diverse communities with a shared location. The app will be monetised through local eateries and venues advertising themselves and their promotions to the app's user community, and NomYappers who decide to get together.
Omar said: "We built this project during term and our skills both really complemented each other. When we heard about the competition we were keen to apply and we're really delighted to have taken first prize."
Justinas said: "Taking part in this competition has taught me a lot. I've developed a much stronger understanding of how businesses are planned and run, and I'm really grateful for all help we received."
Omar and Justinas are aiming to have the first version of NomYap available for users in the next few weeks.
The competition's runners-up received Nexus 7 Notebooks and Amazon Vouchers Their business ideas were:
InfoSniper (Sean McKeown and Martynas Buivys): Combining natural language processing, simulation, and artificial intelligence techniques, Info Sniper provides a federated search tool to enable investigators to carry out concurrent searches of public and social data sets to find information on individuals, compare, store and search results, and gather evidence. The system has been co-developed with a private investigations firm. It has the potential to bring substantial efficiencies to the investigations processes utilised by insurance firms, security agencies, recruitment companies, HR departments, banks, and security / compliance departments in a wide range of industries.
Skill Report (Stefan Raue and Stewart Whiting): Skill.Report is a careers advice platform allowing its users to understand trends in the job market. By continuously analysing millions of job advertisements from around the world, the intelligent platform is able to provide in-depth analysis to job seekers, prospective students, recruitment agencies, careers advisers and employers into the skill sets and market value associated with specific jobs. Users can search job market data for the most lucrative career options, identify gaps in their own skills, plan their education, training and career aspirations on their own or with the support of a trained careers advisor.
The event also showcased other student entrepreneurs from the School of Computing Science. Undergrad student Tomasz Sadowski discussed his fledgling student business, Opinew, which aims to provide recommendations on films, restaurants, hotels, books and more based on users' opinions. PhD student James McMinn gave a presentation on Scoop Analytics Ltd, a new spinout he has formed with Professor Joemon Jose and PhD student Phil MacParlane, which scours social media to provide breaking news updates to journalists, financial traders and brand managers.
---
Media enquiries: ross.barker@glasgow.ac.uk / 0141 330 8593
First published: 4 September 2015