Building Effective Teams
Communication & Engagement
Communication & Engagement
In recent years the office environment and the way we work, has changed significantly. How we communicate and engage with our colleagues, teams and direct reports is now more important than ever, particularly with more people working from home, or another location outside of a physical office.
The Institute of Internal Communication 'Future of Work Trends Report' pitches it perfectly:
'Effective internal communication has the power to transform working lives by helping people feel engaged, connected and purposeful.'
To build and maintain an effective team, it is important that managers and leaders ensure everyone is kept in the loop through robust internal communication and engagement. Likewise, great teamwork depends on members communicating regularly with their colleagues to stay engaged and motivated.
Developing Great Team Engagement

Ensure you have regular one-to-one meetings with each member of your team.
These could be a regular 30-minute virtual coffee every two weeks or once a month. Keeping up the routine of checking in with your team members, just like you would in the office, means maintaining good relationships and healthy engagement.

Choose the right technology to help you and your team communicate effectively then stick to it.
It may be that you need to use more than one application or tool depending on the needs of your team. Regardless of the number of tools you need to use, make sure your team understand how to use your chosen technology communicate with each other, and agree the approach collectively.

Create an environment where your staff/team feel empowered to share their comments and ideas.
Good communication means being able to listen, as well as sharing important messages. Encouraging two-way feedback is a sign of valuable communication in the workplace and it will provide team members with the opportunity to reflect on how things could be improved.

It can be easy to forget to take a moment to say thank you to a team member, particularly when you may not see each other in person.
By making time to congratulate or thank a colleague, you are positively contributing to team morale. You could do this on an individual basis or protect time in your regular staff call for recognising the good work completed by your team.

Making time for fun activities can have a positive impact on team dynamics and on the overall morale of your team.
By coming together to collaborate on other things outside of your normal work, you can improve the level of engagement and motivation of your team. When colleagues spend time together and become more comfortable around each other, they naturally communicate better.
Experimenting with New Ways to Communicate and Engage
Across the University, many of us are always seeking ways to better communicate with our staff. It's important to try new methods or styles of communication to keep your conversations interesting and productive. Below are some suggestions which other organisations currently use with their teams.

According to TechSmith.com 48% of all employees consider video the most engaging form of communication. Videos don't have to be fancy or very formal to be effective. There are so many different things you can do with video:
- Project updates
- Leadership updates
- Launch new ideas
- Film "a day in the life" of employees
- Add a video digest to your internal newsletters
- Training session

Compared to more traditional media, podcasts offer a fresh way of delivering content in a more intimate way. By using real voices of staff and students, you can tell stories and provide news in a way that is personal and familiar.
- Podcasts are easy to listen to on the go
- Senior Leaders and Managers can speak to staff directly
- Complex information can be delivered in an understandable and conversational format

Internal communication isn't always about telling a story or sharing information - sometimes it is about encouraging dialogue. Creating an environment where people can chat and share ideas is a good way to ensure effective and regular communication. Using Microsoft Teams as an example, colleagues can share ideas and ask for information while building relationships. It's also a great way to reduce email traffic in a team!

Establishing one day a week with no meetings is becoming more popular, with a growing number of organisations and companies introducing this way of working. Elizabeth Grace Saunders on Harvard Business Review writes:
'By giving yourself one meeting-free day per week, you reduce the context-switching that can slow down dedicated project work. You don't have to spend the 10 minutes before a meeting winding down one task and prepping for the meeting — and then another 15–30 minutes after a meeting wrapping up loose ends and getting your focus back. You simply work.'
It does require discipline and commitment from everyone in the team, but with dedication and focus, you can choose to improve your internal communication by picking a day that is distraction-free!

Getting things done can sometimes be difficult in the age of remote collaboration and virtual teams. It can also feel tricky to gather ideas and make decisions if you don't have all the important people in a room together. One way to help with these types of challenge is to use online collaboration tools. Online whiteboards can help teams collaborate and share new ideas in real time without losing any of the important interaction and creativity. A dedicated tool to help facilitate brainstorming and decision-making can ensure everyone feels part of the process, and it means all participants can see how their input shapes important outcomes.

In times of uncertainty and change, sometimes effective communication and engagement is as simple as encouraging staff to ask questions. Hosting a dedicated Q&A session without a formal agenda and slides can enable people to ask important questions and get the answers they need from a leader. It's important that a safe space is created for a Q&A session, so spend the first few minutes introducing the session and putting people at ease. Commit to answering questions as honestly as you can, while being realistic about the information that you can share.

Some companies and organisations now have a dedicated app for communicating and engaging with their employees. An app is a great way to share important information, news stories and other updates, with the added benefit of sending push notifications if you happen to have an urgent communication to share with a large audience. An app does require investment, however given the shift towards more flexible ways of working, it is a communication method which will surely grow in popularity.
Useful Resources
Managing Teams Remotely
Managing Teams Remotely
Managing a team can be an entirely different proposition when they are not all based at the same location. With the opportunity to have face-to-face contact removed it can be difficult ensuring team members are clear on what they need to do and whether they have all the necessary tools at their disposal to fulfil their roles. So, what is the best way to manage a team when working remotely? Let's find out.

Regular meetings with team members can be a great way to check in, manage workload and make sure everyone has what they need. Its also a useful way for the team to still feel connected even though they are not in the same location. The frequency and length of meetings is important, you don't want to leave it too long between meetings that the team feel isolated from each other, but also you don't want them to take up too much time that it stops them from getting on with the job at hand.
With the crash course we've all had on tools such as Zoom and MS Teams, we are now familiar with what we can use to facilitate these meetings so we can still see each other when we're apart.

Setting goals or deadlines can be a useful way to keep teams productive and keep projects and activity on track. Given the team are working remotely you want to ensure that they still have work to get them through the day or week. Establishing a deadline for some of these tasks can ensure that the team remains focussed and still feel like they are adding collective value even when they are not all together.
Remember to make sure any goals or deadlines are realistic. You don't want the team to become stressed when having to turn something round at short notice unless it really is urgent. By the same token, you don't want to set such a distant deadline that they lose focus on what they need to do.

It doesn't need to wait until a meeting to find out how team members are getting on with a task. Dropping an instant message or email can be a good way to check in to understand whether they are comfortable with what they need to do, or if they have reached an impasse that they need help with.
Try to keep any ad hoc messages for updates as informal as possible, sometimes messages in writing can be interpreted bluntly if they are not framed in the right way. You want them to feel that you are just checking in and offering a helping hand if they need it, not trying to micro-manage tasks or activity.

During these uncertain times it is important not to lose sight of the fact that when working from home staff may have additional pressures on them on top of their work commitments. They may be responsible for looking after an older relative checking in on them or buying groceries, or perhaps have children that would normally be in school that they now have to look after during the day, but they have additional responsibilities that they have to juggle alongside work.
Be mindful of this when allocating tasks or setting deadlines. Adjusting expectations on output or perhaps sharing tasks with other team members may be required to get urgent items done, however, it is incumbent on a manager to ensure that they are not loading pressure onto members of the team.

It shouldn't be all about work. During the current emergency people can begin to feel isolated or lonely when working remotely. If all we discuss at work is the work itself it can take its toll and staff can feel overwhelmed.
Whether it's just setting aside some time at the beginning or end of meeting to have a general non-work chit chat, or perhaps sending out a quiz, make sure that space is made for the team to feel relaxed and normal.
Using Technology to Support the Team
Using Technology to Support the Team
Video Conferencing Troubleshooting Tips
Video conferences are a great way to keep in touch when working remotely, however, they can cause a few frustrations when they don't work as they should. Whether it's MS Teams or Zoom the following tips might help address some of the commonly experienced issues.
Use mute – in larger conferences having non-speaking attendees on mute can improve audio quality. Microphones pick up and even amplify even the smallest sounds so an audience may find it difficult to hear if attendees have a lot of background noise. Going on mute will stop these unwanted distractions.
If you're hosting a meeting on Zoom you can use the Mute All functionality to shut down attendee's microphones, just go to 'Manage Participants' and click 'Mute All'.
Remember, if you are on mute you can always select to unmute if you have something you want to say. Holding the space bar can temporarily unmute you.
Stop video – Using the video functionality can also impact on the quality of a video conference. If your meeting does not require everyone to see each other then you may wish to encourage attendees to tun off their cameras to reduce bandwidth. Similar to the mute function, you can always turn your camera on if you want attendees to see you when you wish to raise a point.
Of course, it's worth noting that one of the benefits of video conferencing is that seeing each other enriches the meeting, so you should only really suggest turning off cameras if the quality of the connection really needs it.
Wifi strength – The strength of your signal may impact on the quality of a video conference. Try getting closer to your router if you can to improve the signal. Also, having other apps open and other devices connected to wifi, whether in use or not, can affect signal strength, so shut these down to get the best signal for your meeting. Even moving away from microwaves can help improve signal.
Have a back-up plan – Having a think about what could go wrong in advance of the meeting can allow you to put measures in place if they do. For example, you may want to share a particular document with attendees, but for reasons out with your control you can't. Sending the document to a fellow participant in advance of the meeting means you can pass over sharing responsibilities to them if required.
Carry out a test – Get familiar with the tool in advance so you know what you are going to encounter before the meeting takes place. Knowing the right buttons to click to run the meeting the way you want to before the meeting takes place reduces the stress of trying to figure it out while attendees watch on.
Record the call – Depending on the nature of the call it can be worth recording it for reference once the meeting has ended. As a host you have the option to click 'Record' for a copy of the meeting to be made. Remember to ask permission from all attendees if you plan to record the call.
Echo – From time to time you may encounter an echo. Commonly this is caused by joining a meeting using the audio both on a computer and a phone. This can be resolved by just opting for one audio connection.
MS Teams – Quick Tips
We're all relying more and more on technology to stay connected and organised while we work remotely. MS Teams has become a key tool that we're using to communicate and collaborate with our colleagues, Learning Pathways has great information to get started with the platform, but there a few things you may not know already that could improve your MS Teams experience.
Give conversations a title - As we use MS Teams more the more conversations threads will exist. This can make it more difficult to find them later. Giving your chat a title can make it easier to identify.
To do this simply access the conversation and click on the pencil symbol and type what you want to call the chat. Not only will the chat name now appear on your conversations, it is also searchable so you can type in the name in the search field to find it.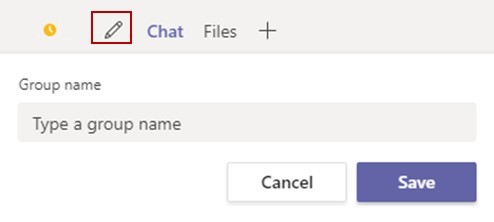 Forward emails to a channel from Outlook - We are still using email regularly to manage our work. Depending on who or what we are communicating it can be appropriate to send an email instead of using the chat function. MS Teams is integrated with Outlook and we can forward emails from Outlook to an MS Teams channel.
Click the ellipsis next to any channel name and select "Get email address." It will generate an email address for the channel. Copy it, and you can use that address to forward items from Outlook, including attachments, and add them directly to a channel.
Get Teams on the go - You can download the MS Teams app on iOS, Android and Windows smart devices. That way you can stay connected when you're out and about. Just go to your app store and download the app and follow the instructions to connect to your MS Teams account.
Try to remember though that just because you have access to it on your phone or tablet it doesn't mean you have to stay in touch all day every day. It is only a tool to make it easier and more convenient.
Highlight Important Messages - You may from time-to-time want to highlight important items in your chat. Not only can you direct someone to your messages by using the @ symbol and typing their name, which will draw their attention to a particular message, you can also add flags to messages.
By clicking on the '!' symbol in a chat you can select whether to mark an item as Important or Urgent, in addition to a standard message. An Important message will be flagged on a chat drawing your colleagues' attention to it, whereas an Urgent item will ping an alert every two minutes for 20 minutes drawing them to it further.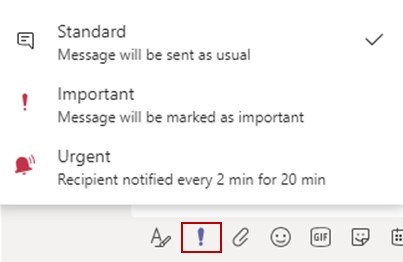 Add a Teams Meeting on Outlook - When you are scheduling a meeting on Outlook you can automatically generate a link for attendees to follow to join the meeting. That way when the time for the meeting arrives and they open the invite they can simply click the link and it will take them right into the meeting.
To do this simply click the Join Teams Meeting button on Outlook in the Meeting ribbon. It will auto populate your invite with a link to the meeting. You can then fill out the rest of your invite as planned.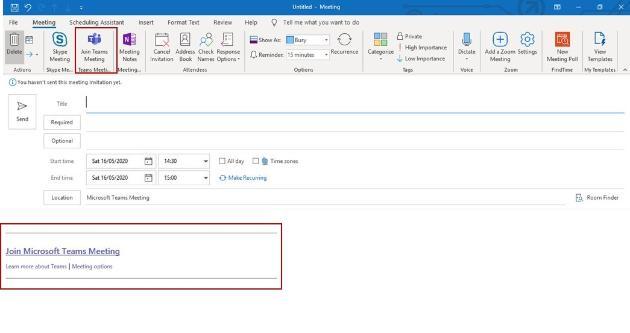 It's all about collaborating - There are loads of additional functions and features out there to get the most out of MS Teams. If you find something particularly useful why not share it with your colleagues so they can use them too. Share it with us too by getting in touch and we can add it to the tips above.
Communities of Practice
Communities of Practice
Designing Communities
What are Communities of Practice?
Communities of Practice are self-organising groups of people who share the same interests in resolving issues, improving skills, and learning from each other's experiences to build better practice, resulting in happier, more motivated people.
What are learning networks?
Communities should connect to make up a learning network across the UofG. Organisations use learning networks to break down silos, accelerate delivery capability within teams, across colleges and different areas of expertise. Communities help create the feedback loops necessary to monitor success in a complex environment.
What are the benefits of learning networks?
design a sustainable and continuous learning culture
connect communities with external networks, to support professional development and practice-based learning
grow reputation externally, helping retain and recruit talent
shape feedback mechanisms to tell stories and resonate with our experts – creating happy, more motivated people, who feel a sense of belonging
How do I get started?
We advise that you join the Change Network to learn more about community approaches and how to stay connected. You may also wish to create a smaller community focused on a specific area of work.
Team Development Workshops
Team Development Workshops
Workshop One - Team Culture
When delivering change and optimising delivery, it's important to have a strong team culture. In a remote working environment, it's even more important to get the team culture right as this will provide foundations are resilience. To address your team culture, you may want to use a tool such as the Team Canvas.
What is a Team Canvas?
A Team Canvas is a design thinking tool, designed to help teams design and evolve their ways of working collaboratively.
A Team Canvas should answer the question 'How do we want to work as a team?'.
Why do we create a team canvas?
Developing a team canvas helps teams to organise themselves and get on the same page. It can help resolve conflict and build a productive culture of shared values and robust working practices. It helps us revise the way we work, how we respect each other and adapt our working practices as a team.
Key components of a team canvas

Step by step guidance
What will I need?
A whiteboard or large sheet of paper. If doing this remotely, an interactive whiteboard (Miro and Mural are good options but you can use the whiteboard on Zoom our even a Google doc)
A team canvas (below) to guide you
If you are doing this remotely, Video conferencing software, Zoom works well
A device with a timer - the stopwatch on your phone should be enough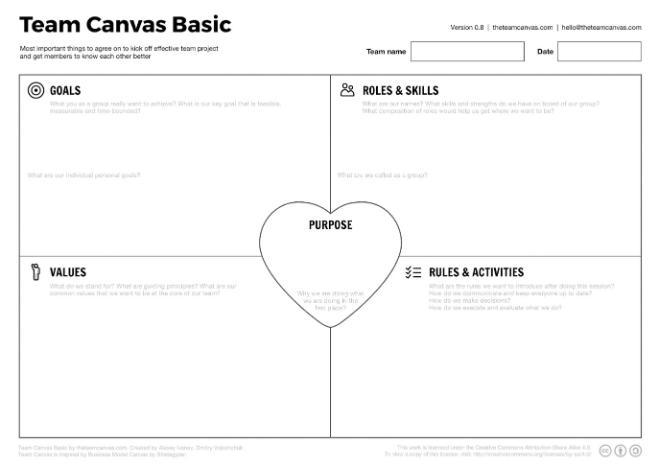 Facilitator notes
It is a good idea to work anti-clockwise round the board from Roles and Skills.
Roles and Skills (5 minute breakout)
Ask people to put their names on stickies, as well as their roles. If a person has multiple roles, use separate post-its.
Questions for the group:
What are our names?
What are the roles we have in the team?
What are we called as a team? Does this reflect us?
What would we prefer to be called?
Goals (5 minute breakout)
Questions for the group:
Individually, what do you think we should be achieving as a group? What is our key goal that is feasible, measurable and time-bounded?
Ask the team to agree on their common goals.
Examples:
Increase team efficiency to create capacity for value add tasks and training
Promote our department's services to the wider university community
Values (10 minute breakout)
Ask the team what are their core values - the most important principles - that they want to share within the team. Questions for the group:
What do we stand for?
What are our guiding principles?
What are the common values that we want to be at the core of our team?
The team should agree on values, so everyone accepts the final set.
Examples:
Trust
Creativity
Quality
Transparency
Mutual understanding
Equality
Respect
Purpose (10 minute breakout)
Ask the team to go one step beyond their common goal and ask them why they do what they do.
Questions for the group:
Why are we doing what we are doing in the first place?
What is something more important, which makes us pursue our common goal?
Examples:
Create a positive impact on people's lives through social innovation
Make people's life easier and stress-free through internet of things innovation
Rules and Activities (10 minute breakout)
Ask the team to think about their ideas on team rules and activities. Think of this as of outcome of the previous sections: a concrete set of rules and activities they want to implement.
Questions for the group:
What are the rules we want to introduce after doing this session?
How do we communicate and keep everyone up to date?
How do we make decisions?
How do we execute and evaluate what we do?
You can get the team to vote on their top 3 activities and invite them to think about the ways that they can implement them.
Examples:
Keeping things within group confidential
Weekly status updates
Communication over MS Teams & Zoom for calls
Dinners together every second week (Max as organizer)
Workday: starting from 9 to 10, meetings start at 10
Keeping workday to 8 hours, except in times when more is needed
Should you need an offline version of the facilitator notes please access the Team Canvas Facilitator Pack
Workshop Two - Value Proposition Canvas
What is a Value Proposition Canvas?
A Value Proposition Canvas is a design thinking tool to help teams explore possibilities driven by their user or customer needs, and their collective capabilities. Using the Canvas, you can produce a series of experiments to run with the team, to help shape the highest value ideas to test before designing a business or operating model around it.
Why do we need a value proposition?
A value proposition refers to the value a company promises to deliver to users or customers should they choose to buy or engage with their product or service. A value proposition is also a declaration of intent or a statement that introduces a service to consumers by telling them what it stands for, how it operates, and why they may be interested in using it.
For a quick overview, design thinking organisation Strategyzer, have a really helpful 3 minute YouTube video that will help you understand value proposition in more detail.
Key components of a Value Proposition Canvas
Define problem and context
It's always a good idea to start by defining your problem and providing some context around it. It's important that you talk about timescales here. Ask the team to explore how our products and services are currently doing, and gather ideas for what is immediate and ongoing, what we could be doing 1 year from now and beyond. This should help define some problems to explore and frames the next stage.
Define Customer Segment
Your customer (or user) segment tells you everything about the people you want to make your customers, who are your users, or who are already engage with your products or services. The customer segment part of your value proposition canvas explores:
Customer jobs (what tasks do they have to complete every day)
Pains (in their day-to-day life what is giving them a headache, or is creating an issue)
Gains (in their day-to-day life what would make things great for them)
Define Your Value Map
The value map segment of your value proposition canvas explores:
Products and Services
Gain Creators
Pain Relievers
The Value Map section of the canvas is where the group captures all products and services that are currently offered. Based on those, how could they be developed to create 'pain relievers' or 'gain creators' for customers and users. Try to look at this from the perspective of the user or customer. While writing out the benefits of your product, imagine how it increases pleasure or decreases pain for the person using it. How do the features make the customer's life better? How does the product experience make a customer feel?
Step by step guidance
What will I need?
A whiteboard or large piece of paper. If doing this remotely, an interactive whiteboard (Miro and Mural are good options, but you can use the whiteboard on Zoom our even a Google doc)
A team canvas (below) to guide you
If remote, video conferencing software, Zoom works well
A device with a timer - the stopwatch on your phone should be enough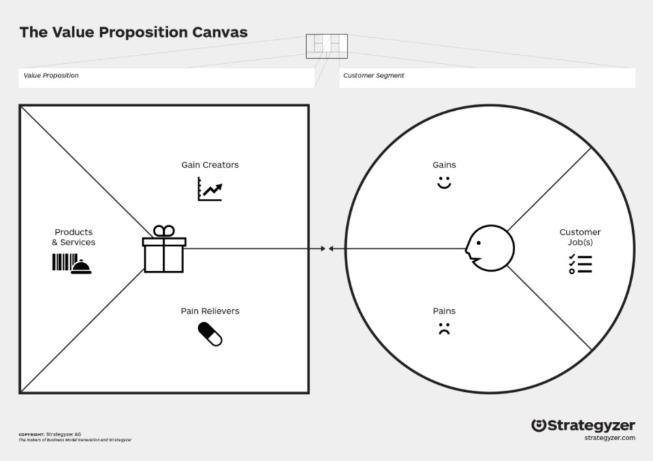 Step by step guidance on how to run a value proposition workshop, is available on the Divergent Thinking website.
How can we help?
If you need some advice on running a Team Canvas workshop or Value Proposition session with your team, the Responsive Solutions team can help.