Travel to Garscube Campus
Travel to Garscube Campus
‌‌‌‌Garscube campus is 4 miles from the main campus and home to
Garscube Sports Complex
Wolfson Hall and Kelvin Conference Centre
the School of Veterinary Medicine in the College of Medical, Veterinary and Life Sciences (MVLS), including:

the Small Animal Hospital
the Weipers Centre for Equine Welfare
the Scottish Centre for Production Animal Health and Food Safety

the Beatson Institute for Cancer Research and Wolfson Wohl Cancer Research Centre
The following research institutes in MVLS also have a significant presence on Garscube campus, in addition to Gilmorehill:
the Institute of Biodiversity. Animal Health and Comparative Medicine
the Institute of Cancer Sciences
the Institute of Infection, Immunity and Inflammation
the Institute of Neuroscience and Psychology.
Access to the campus
There are two main vehicular accesses to the campus, one from Maryhill Road and one from Switchback Road. There are additional pedestrian and cycling entrances from both roads. The facilities and buildings on the campus can be accessed from both roads, but a 10 minute walk over the Lady Campbell Bridge to the other side of the river Kelvin may be needed. If using a navigation app/Sat Nav please use G61 1BD as the postcode; this will take you directly to the Campus Gatehouse where staff will be able to direct you to the relevant building.
Gates opening times are listed here.
Cycling and Walking
There are excellent walking and cycling routes on the campus and a direct cycling route between Gilmorehill campus and Garscube along the river Kelvin. They are shown on the Garscube campus map. For an enlarged version of this map with building key click Garscube Active Travel Map.‌‌

A complete list of all Garscube bicycle parking can be found here, and a list of showers here.
The map below shows the locations of bicycle parking ('P') and showers ('S') at the Veterinary School buildings.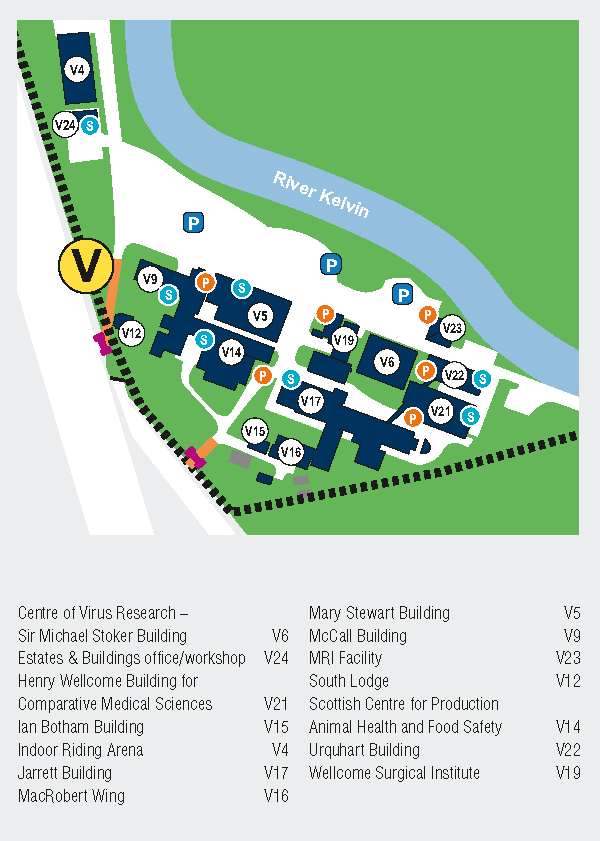 The map below shows the locations for bicycle parking ('P') and showers ('S') at the Beatson and Wolfson Wohl Cancer Research Institutes.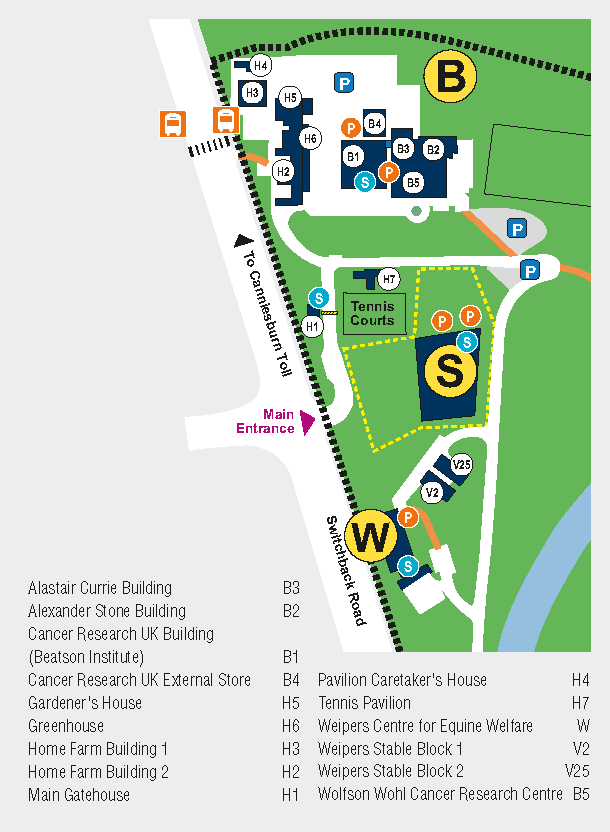 University staff and students can use free memberships for nextbike for their hire bikes. The University continues negotiations with nextbike to install bicycle hire stations at Garscube.
Public transport to Garscube campus
By train
Scotrail 'Low Level' train from Glasgow Central or Glasgow Queen Street, via Partick to Westerton or Anniesland station. Timetable here.
Walk 10 minutes from Westerton station to the entrance from Switchback Road at Beatson Institute or 20 minutes from Anniesland Station to the entrance from Switchback Road at the Vet School. Walking route information here.
By bus
up Switchback Road
The most direct and convenient connection between Gilmorehill and Garscube campus is Glasgow CityBus 15: from and to Milngavie/Anniesland/City Centre – timetable here . The buses are every 40 minutes, with a higher frequency during rush hour. They stop at all bus stops in University Avenue and Switchback Road, also at the bus stops close to Tay House and Gartnavel Hospitals. A single ticket is £1.85, a day ticket £3.70. There are also Monday to Friday 10 journey tickets for £15 and 7-day unlimited travel for £18, all available on the bus.
Other options -
up Maryhill Road
FirstBus 60/60A – timetable here
CityBus 17 - timetable here
First Bus 8/C8 - from Partick and along Byres Road (to Sandbank St only), timetable here
Information for car drivers
When driving on campus it is imperative that the 10 mph speed limit is always observed. Pedestrians have right of way at all times.
On-campus parking is allowed for permit holders. Please see the Central Services webpages for parking regulations and information on permits.
University JourneyShare
The University's JourneyShare system is open for to all staff and students to register car share offers and requests, and can be found here.