Free OVO bikes (powered by nextbike) memberships for staff and students
‌‌The University continues to offer free memberships for staff and students in 2022.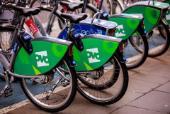 Save the annual subscription fees for the use of standard OVO bikes from more than 100 hire stations in Glasgow!
As part of the University's Travel Planning process, OVO bikes are being made available for staff and students who want to cycle to and from the University, during the day between University locations and for leisure purposes. This compliments the University's efforts to support and encourage cycling as a sustainable and active means to travel.
Please note, this offer does NOT include the use of e-hire-bikes and that there is a separate pricing structure for their use.
Use of OVO bikes on University Business
Staff members may use the hire bikes when travelling on University business, for example between campuses.
When doing so, the University expects you
to have ability and up-to-date cycling skills. Please see also 'Recommended routes and more cycling information'.
to wear a helmet and a high-visibility waistcoat. If you do not own them, they are provided by the University for free for those using the hire bicycles on University Business. Please email to obtain them. Please note, this offer is not available for commuting trips or students.
consider the appropriateness of cycling in darkness and/or rain, snow, high winds or other weather conditions that may decrease visibility
wherever possible, to take routes that are not on-road, segregated or quiet routes. Please see the 'Recommended routes and more cycling information'.
As these bicycles are hired and not property of the users, no mileage expenses claim for cycling can be made. A monthly overview of use and cost will be issued to the subscriber by nextbike, which can be used to claim any usage cost above the first free 60 minutes back from the University.
Click here to find out how to sign up for a free OVO bikes membership.