Gender Based Violence (GBV) Awareness
Content Advisory: This article's content relates to all forms of Gender-based violence, including sexual misconduct and assault. It discusses common reactions to GBV and impacts of trauma. If you would like to access support, without reading further, please follow this link.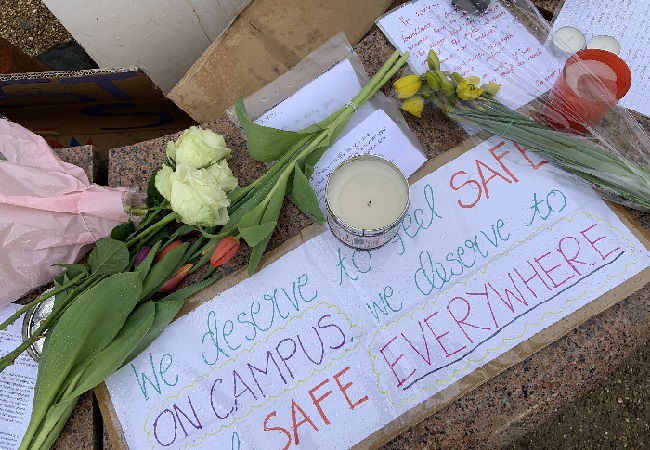 Gender-based violence (GBV) sadly remains an ongoing issue in our society, and UofG is committed to providing support to any member of our community who has been affected by violence or assault, and to raising awareness of the issue of GBV.
Everyone at the UofG has the right to feel safe, and harassment of any kind is completely unacceptable. Our community is an environment where these behaviours are not tolerated.
The issue of safety has been in the public spotlight in recent days in the wake of the death of Sarah Everard. This has led to vigils being held across the UK and on social media, including on the main UofG campus, in memory of Ms Everard and in action against gender based violence.
Support for anyone affected by sexual violence or assault is incredibly important, and a very personal choice. There is support available within the University to any one that needs it, as well as the ability to report issues anonymously. We also understand that survivors may wish to seek support externally and a list of specialist agencies is listed below along with internal information, to help you find the support that feels right for you.
Whether you seek help from within the University or externally, remember you are not alone and support is always available when you need it.
Support For Survivors
A sexual assault is a traumatic event and survivors may experience a range of reactions and feelings, all of which are very normal and understandable. Below are some of the most commonly reported reactions for those affected:
Feeling of shock/numbness
Heightened feelings of fear or anxiety
Flashbacks
Anger
Nightmares
Mood swings
Nausea
Difficulty sleeping
Feelings of guilt/self-blame
Loss of appetite
Avoiding company
Increased use of alcohol or drugs
Coping Strategies
These reactions can be distressing but are completely normal responses given the trauma survivors have experienced.
It is important for survivors to take care of themselves and the have support available should they need it; it is also important to remember that with the right support people can and do deal with the impact of sexual assault.
Below are some coping strategies survivors might find helpful through this time:
Seek out support from people who are important to you – try not to isolate yourself or avoid activities you'd usually engage in.
Write down how you are feeling to help you process your thoughts – it is also important to remind yourself that you did not cause the sexual assault; the person responsible is the person who assaulted you.
Try to maintain a regular routine as best as you can, as this will give you a sense of stability and safety.
Get plenty of rest, even if you find it difficult.
Make time for relaxation; you may find some simple breathing exercises helpful.
Get regular exercise, such as a daily walk.
Talk things through with someone you trust - a friend, counsellor or family member can all help provide support and help you process what has happened.
Further information is available on the University's webpages, if you have been affected by sexual violence, or are supporting someone who has been.
You can seek help via the University's Report & Support tool, or you can request a consultation with the Counselling Service to help deal with the emotions that you may be experiencing.

The SafeZone App
We'd also like to highlight the UofG SafeZone App, which is an app monitored 24 hours a day by the UofG Security team, helping ensure the safety and security of our staff and students - whether it be on campus, at halls or worldwide.
You can find out more and download the app here.
---
Students Representative Council (SRC)
Read the "Working Toward a Dear Safe Space at the University of Glasgow" blog by Ella McCabe, the Vice President of Student Support at the SRC.
External specialist support is also available
We understand that if you have been affected by gender-based violence you may be more comfortable in seeking information or support from an external source, and there are a many specialist agencies available to support you:
First published: 18 March 2021