EU Ambassador to the UK visits the University
Published: 1 July 2022
UofG hosts Ambassador João Vale de Almeida during his official visit to Scotland
On Monday 27 June, the University hosted the EU Ambassador to the UK, Ambassador João Vale de Almeida, and his delegation during his official visit to Scotland.
The Ambassador was welcomed by the Principal and Deputy Vice Chancellor (External Engagement), Rachel Sandison, who discussed the valuable contribution made by European students and colleagues at Glasgow. The Ambassador heard how the University is committed to working with European partners and networks such as CIVIS and The Guild EU on collaborative research, teaching and learning opportunities, as well as staff and student mobility.
As part of his visit, Ambassador Almeida visited The Hunterian Museum and met with Maria Economou, Professor of Digital Cultural Heritage, and Nathan McConway, Digital Engagement Officer at the Hunterian to experience a demonstration of the EU-funded project EMOTIVE. Funded through the European Union's Horizon 2020 programme, the EMOTIVE project uses immersive storytelling through virtual and augmented reality to create 'virtual museums', changing how people can digitally experience heritage sites. EMOTIVE aims to develop emotional experiences for visitors at cultural heritage sites, in particular the UNESCO World Heritage site of the Antonine Wall and the related Roman Frontier display at The Hunterian in Glasgow. The Ambassador had the opportunity to use the EMOTIVE VR/AR technology and heard how colleagues at the University of Glasgow have been working over the years with industry and research partners from across Europe to design powerful and emotionally engaging cultural experiences that resonate with people's lives today.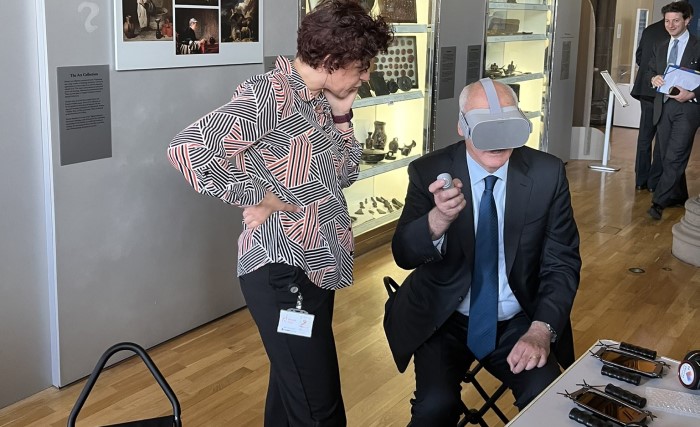 In the final section of his visit, the Ambassador held a roundtable at the Mazumdar-Shaw ARC with some colleagues involved in cross-border collaboration and with colleagues leading and participating in major EU-funded projects at the University. Deputy Vice-Chancellor Rachel Sandison chaired the session with colleagues discussing some of the challenges facing researchers post-Brexit and highlighting the importance of maintaining and strengthening EU partnerships.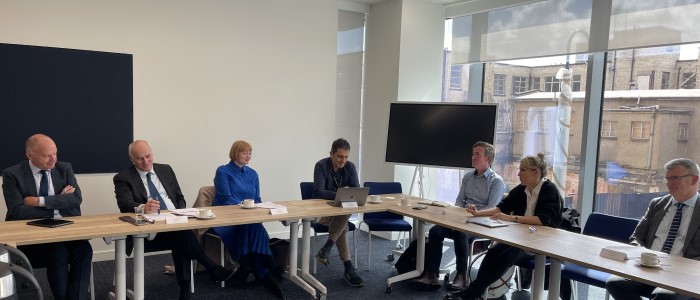 Ambassador Almeida's visit follows a stream of recent European engagement by the University, including an op-ed written by the Principal on why global crises require Scotland and the UK to have a European mindset. This year's Commemoration Day also saw eminent European Scholars join former Italian Prime Minister, Mario Monti, and the first woman President of Ireland, Mary Robinson, in receiving Honorary Degrees in Glasgow. Others recognised on Commemoration Day included President of the National Academy of Science and Engineering in Germany and ex-Director General of the European Space Agency, Johann-Dietrich Wörner, and columnist with of The Irish Times Fintan O'Toole.
---
First published: 1 July 2022