Mazumdar-Shaw Advanced Research Centre wins Learning Places Scotland Award
Published: 17 November 2022
The ARC won 2022 Pupil/Student Experience of the Year
The University is delighted that the Mazumdar-Shaw Advanced Research Centre (ARC) has been awarded the 2022 Pupil/Student Experience of the Year by Learning Places Scotland.
The annual awards featured 11 categories, recognising consultants, contractors, architects, clients, projects as well as innovation and sustainability. The University's bid emphasised key aspects of the ARC's design, including the building's collaborative ethos, the importance of sustainability and the connection it will have with the local area, the city of Glasgow and the wider international research community.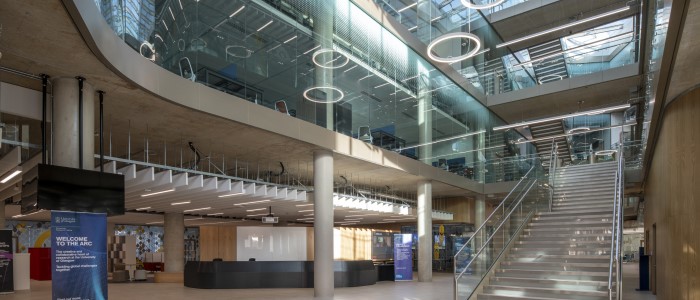 Professor Andrew Tobin, Director of the ARC, said "We are delighted that the ARC has been recognised by Learning Places Scotland. The ARC was built to support research, giving us carefully designed spaces to develop new connections, facilitate collaborations and spark creativity. We are very proud that the ARC is part of our campus and part of the City of Glasgow. The building is a real asset to Scotland, and we look forward to welcoming many more schools, partners and communities into our fantastic new space."
Sharon De Sykes, Head of Projects at the University of Glasgow, said "We are extremely proud to have been able to bring this project to life and build such fantastic facilities for our colleagues, students and the community. This building will be an enabler to deliver the vision of collaborative research across the whole University community and beyond."
The Learning Places Scotland Awards took place on Tuesday 15 November at the Hilton Glasgow.
Find out more about Learning Spaces Scotland, including the full list of 2022 Award Winners.
---
First published: 17 November 2022