Obituary: former Vice-Chancellor, Prof Sir Graeme Davies
Published: 15 September 2022
It is with great sadness that the University has learned of the death of former Principal and VC, Prof Sir Graeme Davies.
Professor Sir Graeme Davies (7 April 1937-30 August 2022)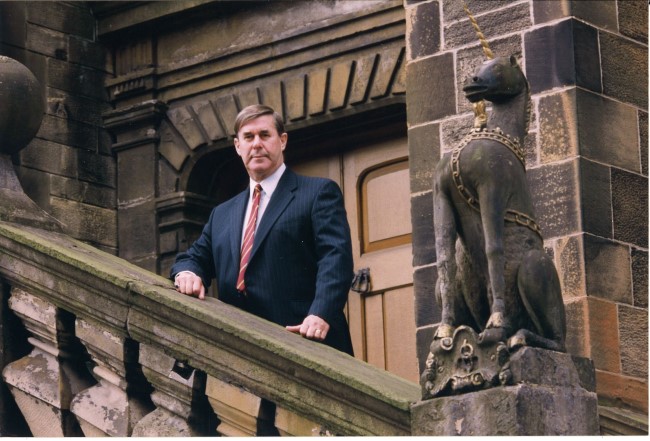 It is with great sadness that the University has learned of the death, after a brief illness, of our former Principal and Vice-Chancellor, Professor Sir Graeme Davies. He was 85 years old.
Born in New Zealand, Sir Graeme graduated from the University of Auckland with a BE in Aeronautical Engineering and a PhD in Materials Science.
In 1962, he moved to the University of Cambridge, and subsequently became a Fellow and Dean of St Catharine's College, Cambridge, obtaining an MA and ScD.
He taught Metallurgy in New Zealand and the UK (Cambridge and Sheffield), subsequently becoming an internationally distinguished academic metallurgist.
Over a period of 30 years he brought transformational leadership to a series of institutions of higher education, including the University of Glasgow where he was Principal from 1995-2003.
During his career, as well as his time at the helm at Glasgow, he was Vice-Chancellor of two other universities: the University of Liverpool (1986-1991) and the University of London (2003-2011), where he also became the only Emeritus VC the University of London has appointed to date.
Sir Graeme also served as Chief Executive of the Universities Funding Council (UFC), and of the Polytechnic and Colleges Funding Council (PCFC), and then of their successor, the Higher Education Funding Council for England (HEFCE). It was the work he did during this time that saw him knighted in the 1996 New Year Honours list for services to higher education.
He also served many more public institutions and charities in the UK and overseas and received extensive honours for his contributions.
Sir Graeme was awarded 13 honorary degrees during his lifetime including one from UofG, acknowledging his major contribution to the life of the University as Principal (DUniv in 2004). The Sir Graeme Davies Building was also named in his honour in 2003.
As well as being an academic leader of huge intellect and standing, with keen strategic vision, Sir Graeme was known at Glasgow for his charismatic presence, his entrepreneurial approach, his wisdom and sense of humour.
Professor Sir Graeme Davies was born on 7 April 1937 in Auckland, New Zealand and died on 30 August 2022. He is survived by his wife Svava, his son Michael, his daughter Helena and five grandchildren.
---
First published: 15 September 2022