University marks Commemoration Day and awards Honorary Degrees
Published: 16 June 2022
The University awards honorary degrees in recognition of notable achievements across a range of subjects.
The University awarded honorary degrees to recipients from across Europe in recognition of achievements in the fields of politics, arts, science, and humanities on this year's Commemoration Day.
The awards were presented at a special ceremony on 15 June which marks the foundation of the University in 1451.
This year's Commemoration Day marks the first time since the start of the Covid-19 pandemic that the University has bestowed honorary degrees. It also marks the beginning of the summer graduations, where the University will celebrate the achievements of students who have graduated in 2020, 2021 and 2022.
Among the recipients on Commemoration Day were two former leading political figures - Mario Monti, Italian Prime Minister from 2011 to 2013, and Mary Robinson, the first woman President of Ireland between 1990 and 1997. Others recognised on Commemoration Day include President of the National Academy of Science and Engineering in Germany and ex-Director General of the European Space Agency, Johann-Dietrich Wörner, and columnist with of The Irish Times Fintan O'Toole.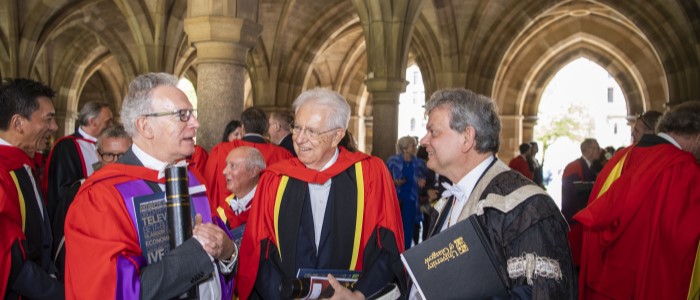 Honorary degrees will also be awarded to a host of recipients during the University's summer and winter graduation ceremonies – from a world leading novelist to a Nobel Prize winner.
During the summer graduation ceremonies author of the Outlander series of novels, Diana Gabaldon, will become a Doctor of Letters along with Jackie Wylie, Artistic Director and Chief Executive of the National Theatre of Scotland.
The 2021 Nobel Prize for Chemistry winner and University of Glasgow graduate Professor Sir David MacMillan will become Doctor of Science (DSc), along with Professor Dorairaj Prabhakaran, Vice President of Public Health Foundation of India.
---
The full list of honorary degrees 2022 are:
Honorary Degrees Commemoration Day 2022 – 15 June 2022
DOCTOR OF LAWS (LLD)
Professor Dr Sonja SNACKEN - Professor Emeritus of Criminology, Penology and Sociology of Law, Vrije University Brussel
DOCTOR OF LETTERS (DLitt)
Professor Dr hab Zdzisław MACH - Jagiellonian University, Poland
Fintan O'TOOLE - Columnist, The Irish Times
DOCTOR OF SCIENCE (DSc)
Professor Gunnar VON HEIJNE - University of Stockholm
Professor Martin LOHSE - Chairman, ISAR Bioscience and ex- Scientific Director of the Max Delbruck Center for Molecular Medicine
DOCTOR OF ENGINEERING (DEng)
Johann-Dietrich WÖRNER - President, National Academy of Science and Engineering, Germany and ex- Director General, European Space Agency
DOCTOR OF THE UNIVERSITY (DUniv)
Mario MONTI - Former Italian Prime Minister
Mary ROBINSON - Former President of Ireland and former UN High Commissioner for Human Right
Dr Finian TAN – Chairman, Vickers Venture Partners
Honorary Degrees Summer 2022
DOCTOR OF LAWS (LLD)
Dana DENIS-SMITH - Founder and CEO, Obelisk Support
DOCTOR OF LETTERS (DLitt)
Dr Diana GABALDON – Author
Professor Sir Geoff (Godfrey) PALMER - Human Rights Activist
Jackie WYLIE - Artistic Director and Chief Executive, National Theatre of Scotland
DOCTOR OF SCIENCE (DSC)
Dr Aart DE GEUS -Chair and Co-CEO of Synopsis
Professor Deborah LAWLOR - Professor of Epidemiology, University of Bristol
Professor Sir David MACMILLAN - Merck Center for Catalysis at Princeton University and Recipient of the Nobel Prize for Chemistry 2021
Professor Dorairaj PRABHAKARAN- Vice President (Research and Policy), Public Health Foundation of India
DOCTOR OF THE UNIVERSITY (DUniv)
Professor Kofi ANYIDOHO - Professor of English, University of Ghana
Etienne d'ABOVILLE - Chief Executive of Glasgow Centre For Inclusive Living (GCIL)
Councillor Graham CAMPBELL - Human Rights Activist
Sir Douglas Jardine FLINT – Businessman
Corinne HUTTON - Founder of Finding Your Feet Charity and Motivational Speaker
Honorary Degrees Expected to be awarded in winter 2022
DOCTOR OF LETTERS (DLitt)
Dr Elisabeth Kendall - Senior Research Fellow in Arabic & Islamic Studies, Pembroke College, University of Oxford
Professor Anand Menon - Professor of European Politics and Foreign Affairs, Kings College London
DOCTOR OF THE UNIVERSITY (DUniv)
Dr Ligia Teixeira - Chief Executive, Centre for Homelessness Impact
First published: 16 June 2022