Nominations for World Changing Alumni Award
Published: 14 February 2022
The search is on for 2022's World Changing Alumni
Do you know a UofG graduate who's made a major contribution to their field?
The University's Alumni Engagement team are seeking nominations for the World Changing Alumni Award 2022, which recognises and celebrates the achievements of UofG graduates.
Previous nominees include social entrepreneurs, campaigners and activists, start-up founders and much more, who have all made a significant difference to the world around them.
Find out more about the Award and submit a nomination on the World Changing Alumni Award 2022 webpages.
If you have any questions, please feel free to get in touch with the Alumni Team at: alumni@glasgow.ac.uk
Nominations close on 28 February 2022.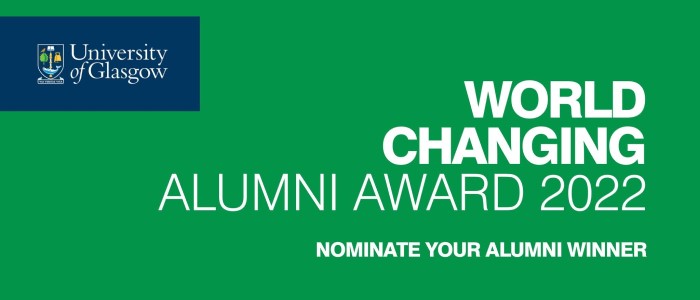 ---
First published: 14 February 2022