Celebrating UofG award finalists
Published: 1 October 2021
UofG researchers reach Times Higher Education Awards and Converge Challenge Award Finals
We are proud to celebrate the achievements of innovative and entrepreneurial colleagues across the University who reached the finals of the 2021 Converge Challenge Awards. The finals were held last night.
Badri Aekbote, a Research Associate in the Department of Biomedical Engineering reached the final with ForCence, a high content invitro platform for preclinical drug screening.
Victor Ochoa-Gutierrez, a PhD Researcher in the School of Physics and Astronomy reached the final with MPluse02, a device which enables the accurate measurement of blood oxygen level irrespective of skin colour.
The Converge Challenge is Scotland's largest entrepreneurial development programme for the university sector. Both Badri and Victor competed in the KickStart Challenge category which is designed for entrepreneurs on the first steps of the commercialisation journey.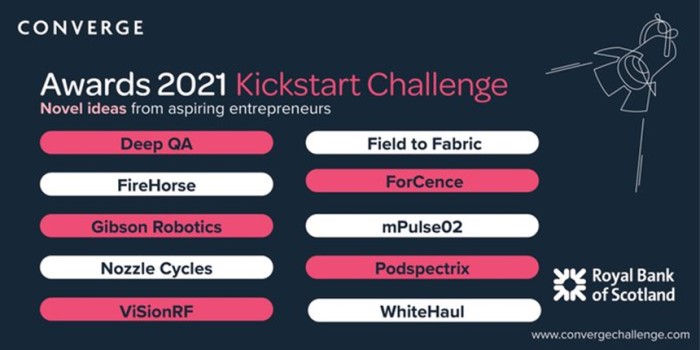 Times Higher Education Awards 2021
Three University of Glasgow projects have been announced as shortlisted for this year's Times Higher Education Awards. The winners will be announced in an awards ceremony in London on 25th November 2021.
The FIELD Study, led by Professor William Stewart has been shortlisted as Research Project of the Year: STEM, and both the Lighthouse Laboratory and Edify have been shortlisted for Knowledge Exchange/Transfer Initiative of the Year.
The Lighthouse Laboratory established by the University of Glasgow and the Department of Health & Social Care, in collaboration with BioAscent, BioClavis, and the University of Dundee, as a national COVID-19 testing facility. The partners have collaborated seamlessly with a shared vision to support the NHS during the pandemic. The Lab recently reached the milestone of processing over 13 million tests, a phenomenal achievement which confirms the critical role the facility has played in response to the pandemic.
Edify is a virtual reality teaching platform created in collaboration between Professor Fiona Macpherson and Dr Neil McDonnell from the University's Centre for the Study of Perceptual Experience and Sublime Digital. It brings the amazing power of VR into Higher Education. During the pandemic, Edify enabled hundreds of students across many disciplines at the University of Glasgow to experience virtual labs, field trips, and the most extraordinary lessons, safely from home via Zoom or Teams
The FIELD study - Football's InfluencE on Lifelong health and Dementia Risk – has produced landmark research suggests head injuries and head impacts in football carry long-term risks. The research showed that professional footballers were three and a half times more likely to die from neurodegenerative disease and had a five times greater risk of Alzheimer's disease than expected. As a result of the findings, the football associations of England, Scotland and Ireland banned football heading in training for children under 12 and discussions are underway to introduce limits for adults in amateur and professional games. The impact of this world-changing research has led to evolution of football, the world's most popular participation sport, with the goal to make it safer for future generations.
Find out more:
Converge Challenge
Times Higher Education Awards
---
First published: 1 October 2021