UofG International
Professor Lorna Hughes – DGE for Europe
We caught up with Professor Lorna Hughes, who takes up the post of Dean for Global Engagement for Europe this month, to introduce her and her new role.
The Dean for Global Engagement (DGE) for Europe is one of a team of six DGEs who work across the institution to develop initiatives for the University within their region.
Professor Hughes takes over from Professor James Conroy who managed and developed the Europe portfolio for 8 years.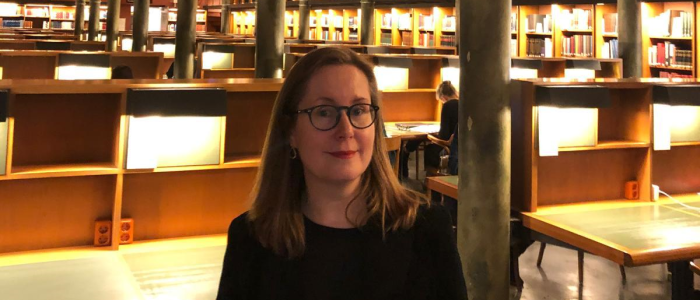 Hello Prof Hughes, could you tell us a little bit about the role of Dean for Global Engagement?
The DGEs benefit the University in a number of ways. They contribute to our internationalisation goals by establishing expertise in a region's education sector and acting as a source of advice about international opportunities for collaborative research, knowledge transfer, teaching, and recruitment.
The Deans are responsible for developing regional strategies that promote and guide international funding and partnership activities – this strategic work is fostered in an environment of co-creation, in dialogue with staff and students from across the University and its external partners. I'm looking forward to working with the many experts at UofG already working in this area - in External Relations, the College International Deans, and staff who bring many important perspectives to the Regional Working Groups.
When you take up this role in the next month, what are the priorities you will be focussing on in Europe?
There are many opportunities for building on collaboration with our existing network of European partners, including our strategic partners Radboud University in the Netherlands and Leuphana University of Lüneburg in Germany, particularly through our collaboration in the European Centre for Advanced Studies (ECAS) . Building these partnerships was a significant achievement by James Conroy in his role as VP Internationalisation, and an important legacy to build on.
We also have an exciting network of emerging partnerships across Europe. Our Membership of CIVIS European alliance of 8 universities, and The Guild of European Research Intensive Universities will be important in this respect. There are also opportunities to build on our excellent track record with the Erasmus Mundus Joint Masters programme and in identifying new approaches to mobility, including the Turing scheme.
An important part of my DGE role will be developing activities that highlight areas of complementarity with our European partners, configured around not just our research and teaching excellence, but our commitment to knowledge exchange, industry facing research and engagement, and third sector links.
What steps can the University take to ensure that we remain a European institution in face of the UK's changing relationship with the EU?
There's a need to work with experts within UofG and externally to monitor the impact of our changing relationship with Europe in key areas. It's easy to focus on the negative changes, but we are still very much part of Europe, and it's important to develop new ideas and build on our experience as we navigate the new realities. It will be important to work with policy-facing organisations and engage across the sector as we develop new mobility frameworks – bilateral and regional. An emerging model can be seen in our mobility partnership development work with Johannes Gutenberg University Mainz.
Overall, I hope to be able to make a contribution to the university's aim that a large percentage of UofG students have some sort of international experience, and supporting a range of exciting activities that ensure that the University of Glasgow continues to be visible to and fully engaged with Europe.
As a researcher with a good deal of experience of international collaboration, I'm also interested in the opportunities around supporting and developing research partnerships across Europe – the UK is still part of the Horizon programme, and Glasgow has a great track record in European research, so there's lots to build upon as we explore new funding streams for research. We are also involved in key European research infrastructures – again, these are good relationships to build on. My own field, digital humanities, is highly collaborative so I've been fortunate to have lots of opportunities to work trans-culturally, chairing multiple European projects, committees and associations.
---
International Week for Staff, 'Global Glasgow': Registrations open
Following on from our previous announcement for our International Week for Staff, we are delighted to announce that registrations are now open for 'Global Glasgow', a week-long programme of sessions for staff on international activity and opportunities.
Early morning briefings (45 minutes) including: The Guild of European Intensive Research Universities (GUILD), U21 network, CIVIS alliance and overview of priority partners.
Mid-morning regional overviews (45 minutes)from the Deans for Global Engagement
Lunchtime and afternoon staff Q and A sessions(45 minutes) topics include European Research funding post-Brexit; the new Turing Scheme for student mobility, and many more key themes.
Plus events from the Colleges of Arts and Social Sciences.
More so now than ever, the University of Glasgow remains committed to international endeavour and global collaboration. Over the last year, we have had to adapt quickly to innovative ways of supporting our partnerships at home and overseas, and staff have continued to work with colleagues from across the world to pursue shared international objectives and create opportunities for our TeamUofG community.
University of Glasgow staff are invited to sign-up to attend sessions of interest in a series of short online events, including:
Any questions please contact: international-events@glasgow.ac.uk
First published: 30 April 2021