University of the West Indies archivists visit Glasgow
Published: 8 July 2019
Pilot project to be developed on the Scottish Business Archives
Archivists from the Universities of the West Indies were in Glasgow recently to share ideas and discuss potential collaborative projects.‌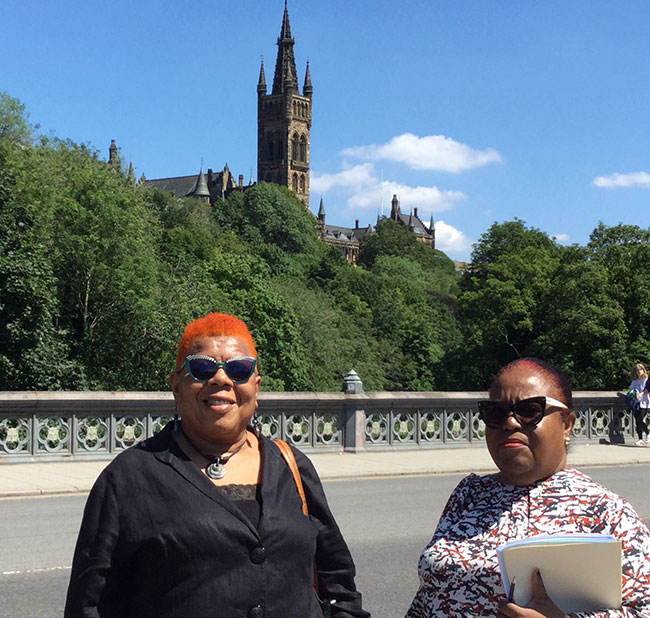 Sharon Alexander-Gooding and Sonia Black from the University of the West Indies spent two days with the Library's Archives & Special Collections team discussing ways to bring new perspectives on the Scottish Business Archive. In the 19th century, Glasgow firms like Mirrlees Watson & Co Ltd were supplying sugar machinery to planters across the Caribbean to mechanise production after the legal abolition of slavery in the British Empire forced plantation owners to pay previously enslaved people for their labour. The archive of this business covers 1849 to 1966 and includes references to thousands of products, places and people that connect the histories of Scotland and the Caribbean nations.
On Friday, 28 June, the archivists took part in a Global History Hackathon, led by Christine Whyte and Sarah Gambell from the School of Humanities. The participants, including staff and students from all four Colleges, concluded that the Scottish Business Archive has much to offer those interested in the history of the West Indies. A pilot project is now being developed.
On their last evening in Glasgow, David Duncan, in his role as Chair of the History of Slavery Steering Committee, introduced Dr Gooding to a fascinated audience in the University Library as she delivered a lecture on the history of the University of the West Indies and its archives.
The Glasgow and West Indies archivists then joined colleagues from all over the world in Dundee for the International Council on Archives Section on University and Research Institution Archives Annual Conference. The themes of inclusion, diversity and cultural competency were all to the fore as the delegates discussed methodologies for selecting the archives of the future.
---
First published: 8 July 2019