Students deliver winning design for new student support service identity
A joint team of six students has won a university-wide competition to design an identity for the new student service model being developed as part of the Student, Staff and Design Delivery project.
The students entered the competition with their identity 'Reach Out' and service ethos in December 2018, impressing the judging panel with their ideas about the future look and feel of student support services on campus.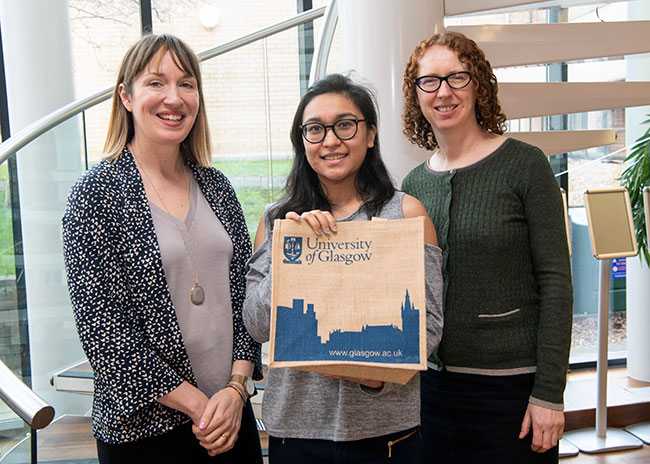 A member of the winning team, Ashvriya Thapa, pictured with Susan Ashworth, Executive Director of Information Services, and Jennifer Robertson, Head of Service Design, World-Changing Glasgow Transformation, has expressed her delight at the team's hard work paying off:
'I have been part of events before where students had to contribute an idea, so I knew it would be a fun opportunity. As soon as we saw the competition flyers, we wanted to enter. We liked that we had a chance to create and do something so important at such a big scale. I really enjoy being part of something totally different from my normal field of work. We worked well together as a team, drawing on the different strengths and skills we all had. We did dedicate a lot of time trying to understand what we thought the ethos should be.
"We knew it was important to always think about things from the view of a student, and what we would like to have in the future. As a team, we came up with about 10 ideas and went through a process to shortlist and then improve. It is good to be involved in something in addition to the academic work. The big takeaway for me was that the basic things can mean a lot - get the fundamentals right and then build on it block by block. To be able to go back home and say, 'We created that, we were part of it, and now it's something real which will help other students,' is fantastic."
The other team members were: Lolita Singh, Keshini Beetul, Sonum Bathia, Diane Vlek and Rebecca Gibney.
The winners' prizes include £1000 to share, the experience of developing a service identity that will become the real-life design for frontline student support services at the University of Glasgow and tech goodies.
The next step is to take the winning idea and turn it into something real for students and staff. Over February and March, the idea will be developed further and will be used as the University implements the new student service model for students.
---
First published: 22 February 2019