Brexit Open Forum
Published: 15 April 2019
University panel discussed a range of Brexit-related issues
The University hosted a Brexit Open Forum on Tuesday, April 9 – a day before the European Council granted the UK a six-month extension to Brexit.‌‌‌‌‌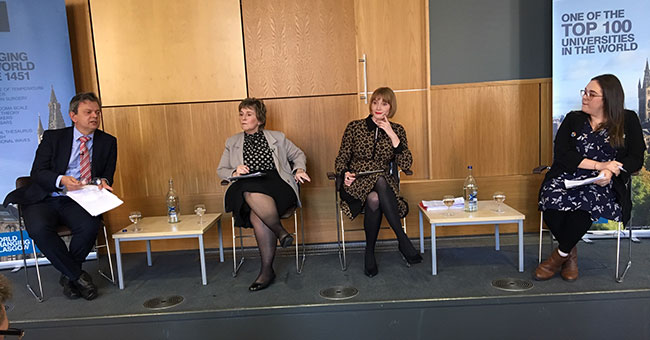 The University panel discussed issues as far-ranging as fees for EU students, support for EU staff, student concerns about study abroad, and the implications for research funding.
The panel was made up of the Principal, Professor Sir Anton Muscatelli; Vice Principal, External Relations, Rachel Sandison; Executive Director of Human Relations Christine Barr; and SRC President Lauren McDougall.
Sir Anton said that many staff and students had felt bereft following the EU Referendum result in 2016. "But the vote has not changed the nature of this University," he said, although as an economist he felt that Brexit was an "unmitigated disaster".
Other HE colleagues, he said, had also identified the impact of Brexit on higher education as being on: free movement of talent to and from the EU; funding of research programmes; funding of student mobility; and funding of EU students.‌‌‌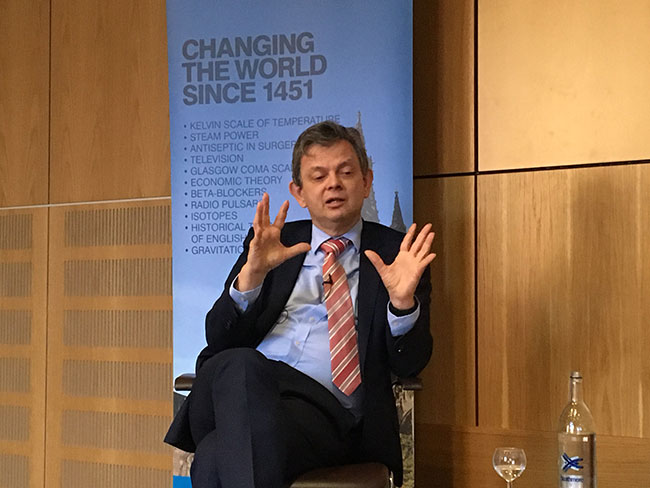 Mrs Barr spoke about the support the University had made available to the 15% of staff who are non-UK EU nationals by raising awareness of the Settlement Scheme pilot, the Settlement Scheme itself and the pre-settlement scheme. She offered reassurance to staff who had already paid the £65 settlement scheme fee and were still waiting for it to be repaid following the
Government's subsequent decision to waive the fee – the money should be repaid within the week. Information was available on a dedicated section of the website https://www.gla.ac.uk/explore/euinformation/ while staff could email hr-eustaffinfo@glasgow.ac.uk for further information. The HR department also offered support on a bespoke basis.
Ms Sandison said the University had 3,000 EU students – there were 135,000 in the UK and 15,000 altogether in Scotland.
"It is absolutely pivotal we do everything we can to safeguard bringing EU talent here. We are working very closely through Universities Scotland and Universities UK to lobby the Scottish Government and Westminster Government to protect the rights of EU students within our University," she said.
With the Brexit timeline pushed back to October 31 following late-night negotiations in Brussels, she anticipated that Erasmus funding would be underwritten not just for 2019 but for 2020 as well. She went on to advise EU students currently at University to apply for pre-settled status, particularly if there was a possibility they might want to stay in the UK to work after gaining their degree.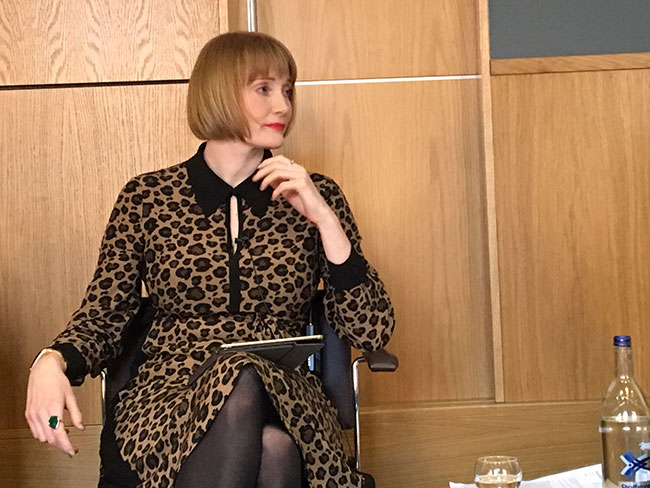 One of the biggest things the SRC was hearing from students – EU and UK – was a "real sense of their futures have been taken away", said Ms McDougall.
"Students feel completely disenfranchised – they have lost faith in politicians to do the right thing – they don't feel they have a voice" she said.
There were wide concerns about a loss of student mobility in the wake of Brexit but the University had promised to cover the cost of the required study abroad element of a modern languages degree, she added. She also sought to reassure any students who were concerned they would encounter hostility if taking part in a study abroad scheme.
"There is a really strong Erasmus student network here and we would encourage students travelling to keep in touch with the network. All the students who have been abroad have found they were very much welcomed."
---
First published: 15 April 2019
Find out more