Dr Gerald Chan unveils "The Alchemy of Turning Science into Medicine"
Hong Kong-born American businessman Dr Gerald Chan delivered the prestigious Andrew Carnegie Lecture on Wednesday, 6 March, in the Sir Charles Wilson lecture theatre.
Dr Chan delivered an absorbing lecture titled "The Alchemy of Turning Science into Medicine: Reflections on the Practice of Translational Science".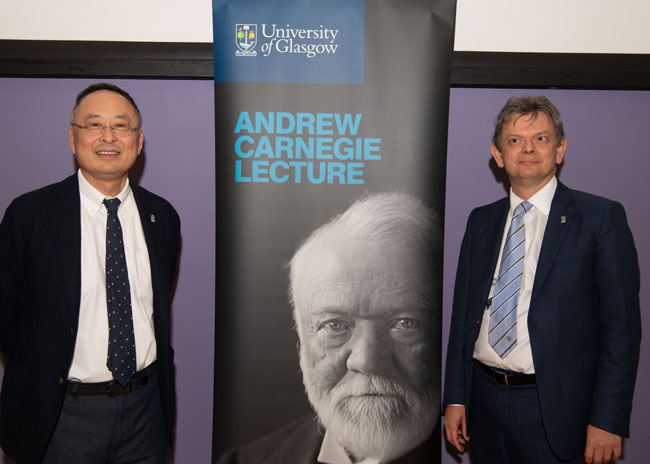 The lecture explored biotechnology as a practice of translational science. Using two case studies of biotech companies that he has built up — one developing an oncolytic virus and the other, an inhibitor of complement, Dr. Chan described the thinking behind steps taken along the pathway to turn scientific discoveries from the laboratory into novel medicines in the clinic.
"When I was a student, the term translational science had not yet been coined. It is a fairly recent term used to describe the work of taking scientific discoveries and further developing them into useful products, policy, practice or social impact. As far as benefit to society is concerned, advancement in science remains inconsequential to the public until science is translated," he said.
Dr Chan added: "In drug development as in science, it is easy to plead conservatism, couched as prudence, and recoil from taking risk. This is the mindset of the majority of people. I cannot overemphasise the need for independent thinkers who can form their own conviction from empirical evidence."
Dr Chan is a venture capitalist who has launched over a dozen biotech start-ups. He received his Doctor of Science degree in radiation biology from Harvard University and received his post-doctoral training at Dana Farber Cancer Institute. He worked in cancer research, left academia for a career in investments and then came full circle to combine science and investment in starting and building biotech companies across diverse therapeutic areas.
Examples among these are Stealth Biotherapeutics, which is a pioneer in mitochondrial medicine; Cognoa which uses data science techniques for diagnosis of autism; and Clear-B, which is developing a functional cure for chronic hepatitis B infection. The theme running through his portfolio companies is novel science, often unexpected and orthogonal to conventional thinking.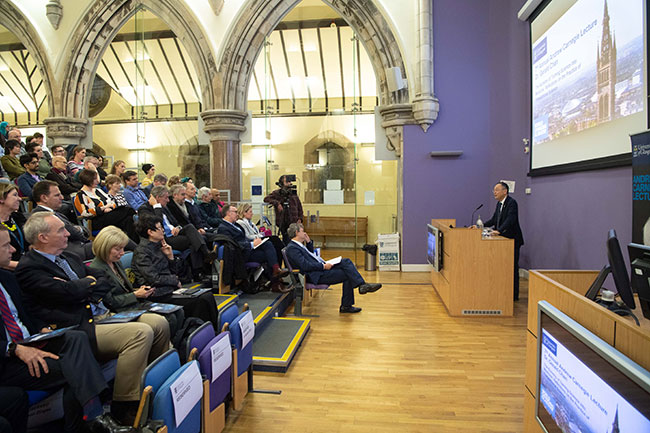 Dr. Chan chairs the Innovation Advisory Committee of the Wellcome Trust. He is a trustee of the Scripps Research Institute in La Jolla, California and a member of the Dean's Board of Advisors of the Harvard T.H. Chan School of Public Health of Harvard University. Pursuant to the donation of a naming gift, the School was renamed in 2014 in honour of Dr. Chan's late father Mr. T.H. Chan.
He has been awarded with six honorary degrees including a Doctor of Science, honoris causa, from University of Glasgow in 2015. He holds an honorary fellowship at Wolfson College of Oxford University. In 2017, he was elected to membership of the American Academy of Arts and Sciences.
The Andrew Carnegie Lecture Series is a 10-year initiative to promote knowledge and understanding, by bringing some of the world's most important thinkers to Scotland to engage with local audiences in a vibrant exchange of ideas. Funding for the lecture series was provided as part of the centennial celebrations of Carnegie Corporation of New York, and the series will continue with separate events taking place at the Universities of St Andrews, Edinburgh and Aberdeen throughout this year. Andrew Carnegie was a renowned and well-respected industrialist and philanthropist who donated much of his wealth to improving society. Carnegie took a special interest in education, and became a major benefactor to the University of Glasgow's development during the 20th century.
Previous Carnegie Lectures at the University of Glasgow:
Baroness Tanni Grey-Thompson - 'Seize the Day'
Paul Tudor Jones II - 'The Business of Conservation'
Sir Paul Nurse - 'Trust in Science'
Professor Alain Aspect - 'From the Einstein-Bohr debate to quantum information: A new quantum revolution'
Professor Cordelia Fine - 'Science, Gender and Equality'
Dr Richard Kurin -'Saving Cultural Heritage in Crisis Today'
---
First published: 8 March 2019