FullStop praised at Holyrood
The University's FullStop campaign has won praise on the floor of the Scottish Parliament at Holyrood.
The campaign was devised and prooduced by the University and the Students Representative Council as a way of boosting awareness of the Dignity at Work and Study policy. The poster and online campaign began last year and the first phase ended earlier this year. It has won award nominations from the Chartered Institute of Public Relations (CIPR) and from the HEIST higher education awards. It has been nominated for two more awards this Autumn.
During a parliamentary session last Tuesday, Annie Wells a Glasgow Conservative MSP, praised the University of Glasgow's campaign to widen people's awareness of bullying.
Ms Wells told fellow MSPs: "I was pleased to see the efforts of the University of Glasgow, which carried out a notable campaign last year seeking to widen people's knowledge of bullying and looking at what can be done.
The University launched on its campus an anti-bullying campaign to tackle casual discrimination among students and staff. The FullStop campaign highlighted offensive comments that were not necessarily deemed to be blatantly offensive by using posters that set out example quotes in isolation."
Learn more about FullStop here - click on the poster.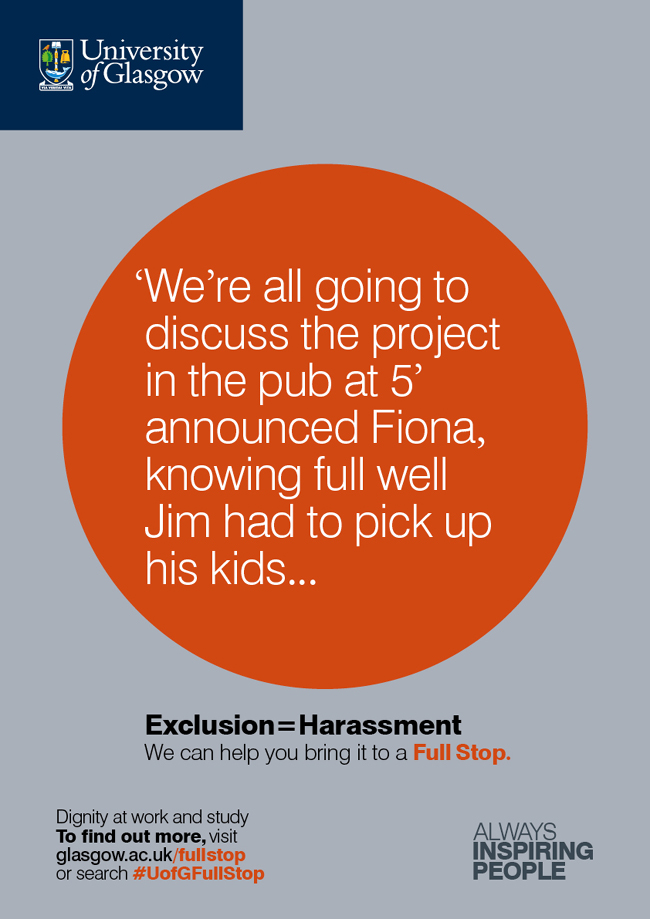 ‌
"To link back to my original point, I was pleased to see the efforts of the University of Glasgow, which carried out a notable campaign last year seeking to widen people's knowledge of bullying and looking at what can be done. The university launched on its campus an anti-bullying campaign to tackle casual discrimination among students and staff. The full stop campaign highlighted offensive comments that were not necessarily deemed to be blatantly offensive by using posters that set out example quotes in isolation."
---
First published: 13 September 2016