Drew Mulholland FRGS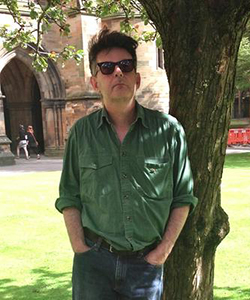 Drew Mulholland, Honorary Research Fellow in the School of Geographical and Earth Sciences, has been elected a Fellow of the Royal Geographical Society with the Institute of British Geographers.
Mr Mulholland specialises in sound and psychogeography and is also composer-in-residence in both the School of GES and Physics and Astronomy.
His recent compositions have included a performance for a "laser harp" – a harp played by blocking laser beams rather than plucking strings that was designed by staff and students in the physics and astrophysics department. For the piece, Mr Mulholland created a graphic score using alchemical symbols from Heinrich Cornelius Agrippa's histories of natural philosophy and John Dee's "magical" symbolism.
He has also completed an album made up of the sound of the outer magnetic fields, which was recorded using a very low-frequency receiver at sites around Scotland that included a Bronze Age cairn, a Neolithic burial chamber and a Second World War decoy installation.
In a more traditional vein, Mr Mulholland was commissioned last year to compose a cello duet commemorating the 100th anniversary of the Battle of Loos, which marked the British army's first use of poison gas during the First World War. For the composer, the piece had a particular poignancy because his grandfather was a stretcher-bearer during the battle and lost two fingers from his left hand when he was shot, ending his passion for playing the violin and the bagpipes.
---
First published: 8 September 2016