Your Book List a winner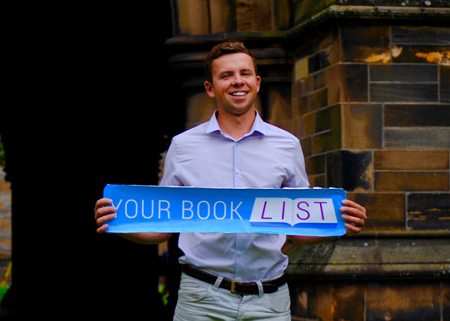 A team of students from The University of Glasgow has won a national competition to develop digital tools to aid education.
The Student Ideas competition called for technology ideas that could improve the student experience in further or higher education and skills, and attracted dozens of entrants whose pitches accumulated 7613 votes in total on the Elevator website.
Alasdair Ireland, 19, co-founder of tech start-up, Your Book List, works with Dunoon-based development company SAMTEQ, and will receive funding and support as part of the Part of Jisc's Summer of Student Innovation. Jisc is the UK higher education, further education and skills sectors' not-for-profit organisation for digital services and solutions.
"Exciting process"
Alasdair, who studies Economics and Business at the University of Glasgow, has been working closely with development company SAMTEQ since leaving school in 2014 to create the app and has already attracted nationwide attention.
He said: "Running a business is a great and an exciting process, especially if you are able to work with a company from home.
"The team have been great in terms of advice and developing a great app, I couldn't have asked for more."
Their app, Your Book List, was designed to help students save money by buying and selling their university textbooks.
Launched in September 2015, it is now used at eight Scottish universities and helping students to save on average 60% when using the app.
The app allows users to quickly find the correct course books, view the potential saving and then arrange a meeting on campus to complete the transaction, the sellers benefit from a quick listing tool using a barcode scanner to scan their books.
As one of 15 winning ideas, the team has now been given funding and will receive support from Jisc experts to work on their concepts during a series of workshops over the summer.
---
First published: 9 September 2016