Assisting disabled people in case of fire
Across Campus each building has a fire evacuation plan that sets out how people can safely exit the building in an emergency. As part of that plan each building where access is unrestricted has been equipped with evacuation chairs for those that may require assistance to exit the building in an emergency situation.
As part of a programme to enhance evacuation procedures ten buildings in and around the main campus have had a refuge alerter system installed.
The system is a radio based communication system for disabled people or requiring assisted evacuation. The alerters are located within the temporary waiting areas of the escape stair enclosures and are fixed to the wall. Any call made for assistance will communicate back directly to the Master Control Station, located within the Security Gatehouse on the Main Campus, which will immediately initiate an assisted evacuation response from University Central Services Staff. Full instructions for use of the system are located adjacent to the units. Central services will then arrange to have assistance sent to the refuge area.
What does the refuge alarm look like?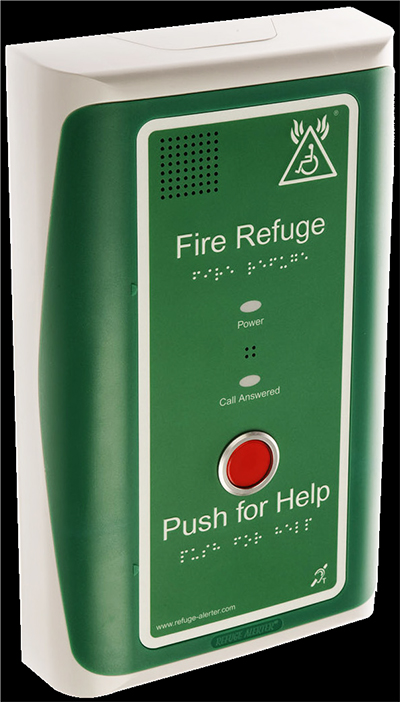 Where are the refuge alerters located?
The ten Campus Buildings where the Fire Refuge Alerters have been installed are;
Stevenson Building
Wolfson Medical School
Boyd Orr Building
Rankine Building
Joseph Black Building
Fraser Building
Mathematics Building
Library Building
Gilbert Scott Building
St Andrews Building
The new system became operational on Friday 26 August 2016.
A second phase of installation of refuge alerters will be agreed this year with a plan rolled out to install, commission and further improve the provision of this system throughout campus.
For more information visit: Arrangements for assisting disabled people with evacuation from University buildings
---
First published: 5 September 2016