Children check in for science at the airport
Glasgow Science Festival has a habit of popping up in unexpected places. From 29 August to 2 September, University of Glasgow staff and students joined the festival team for a week of STEM activities at Prestwick International Airport.
From 29 August to 2 September, over 750 school children 'checked in' for hands-on activities exploring science and technology. The activities were themed around space travel, linking to Prestwick's bid to become a UK spaceport.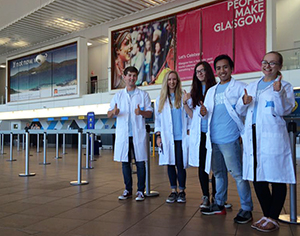 Donning lab coats on loan from the Biology Teaching Centre, children tested astronaut 'urine' for calcium deposits, examined blood smears for 'alien' parasite infections and learned the importance of decontamination. They also saw a Medipix detector in action, a piece of kit used on board the International Space Station to record radiation exposure.
Dr Zara Gladman, Public Engagement Co-ordinator at Glasgow Science Festival said: "We're well used to bringing science to unusual spots, but this is the first time we've popped up in an airport! This is a fantastic opportunity for children to get hands-on and meet role models from a wide range of STEM careers. Our team of staff and students have been absolutely brilliant in making science accessible and fun.
"We would like to thank Dr Vickie Curtis (Institute of Infection, Immunity and Inflammation), Claire Harris (Institute of Biodiversity, Animal Health & Comparative Medicine), Dr Tansy Hammarton (Institute of Infection, Immunity and Inflammation), Dr Mary McVey (Biology Teaching Centre) and Dr Kenny Wraight (Physics and Astronomy) for providing equipment to help us to deliver these outreach activities."
---
First published: 5 September 2016