Collaboration in precision medicine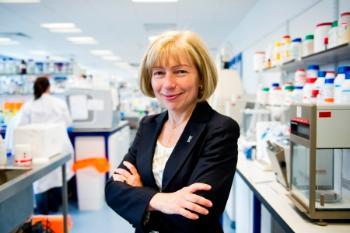 The first annual symposium of the University's MRC Molecular Pathology Node took place in Glasgow yesterday. 150 delegates from academia, the NHS and industry partners attended talks by Vice Principal and Head of MVLS Professor Dame Anna Dominiczak, Node Director Dr Karin Oien, the Medical Research Council's Dr Desmond Walsh, and David Sibbald, the Executive Chairman of Aridhia, one of the Node's official partners.
Professor Dame Dominiczak said: 'Through the MRC Molecular Pathology Node, our collaborations illustrate that bringing industry, academic research and the NHS closer together will provide the ideal environment for the rapid development of precision medicine health solutions.
'This collaborative environment will in turn bring improved patient care and ensure the creation of sustainable growth advancement. The Node will enable scientists, pathologists and clinicians to collaborate with our industry partners in developing new diagnostic tests.'
Training for an expert workforce
Dr Oien said: 'Glasgow is central to precision medicine development in the UK and worldwide. The Node's investigators include global opinion leaders with major roles in international and academic studies and industry efforts.
'Our excellent training in molecular pathology, genetics, informatics and stratified medicine will address national skill shortages and contribute to a workforce capable of developing, undertaking, interpreting and applying the results of novel molecular diagnostics, across a range of professions and expertise from geneticists, pathologists, clinical and other scientists, informaticians and clinicians across the hospital practise and primary care.'
The Molecular Pathology Node was established in November 2015 and is the largest of its kind in the UK. It has received £3.4million from the Medical Research Council and the Engineering and Physical Sciences Research Council, and is a crucial component of Scotland's Precision Medicine Ecosystem, a strategic umbrella organisation which oversees world-changing precision medicine research and work throughout Scotland.
More information
---
First published: 25 October 2016