MoU builds on helicopter expertise
On Monday 26 September 2016, the University of Glasgow and the National University of Aeronautics and Astronautics in Nanjing, signed a Memorandum of Understanding for the creation of the "南京航空航天大学-格拉斯哥大学直升机技术联合研究中心/NUAA-UoG Center for Helicopter Technology.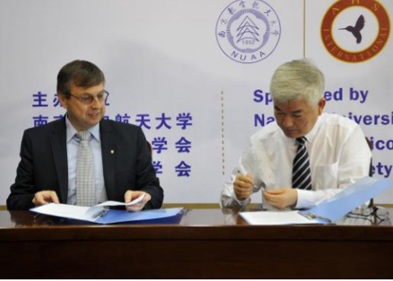 The centre builds on the established track record of both institutes in helicopter research. The MOU will facilitate exchanges of students and staff as well as joint projects in the wider area of rotorcraft. The participating researchers will benefit from sharing state-of-the-art simulation and experimental facilities for their projects. Professors Pinqi Xia and George N. Barakos of NUAA and Glasgow, respectively are now acting as the directors of the new laboratory.
Pivotal
The MOU was signed during a special ceremony as part of an international workshop in Nanjing to commemorate the 90th anniversary of Professor Wang Shicun who is recognised as the father of helicopter research in China. His theoretical work on rotor wakes is still in use today and he was pivotal in the early developments of helicopter research in China in collaboration with the Soviet Union.
The workshop was attended by experts from the rotorcraft centres of excellence of the USA, as well as research centres from Russian Federation, and was sponsored by the Chinese Society of Aeronautics and Astronautics, NUAA, and the American Helicopter Society.
---
First published: 10 October 2016