Bewitching award for Lizanne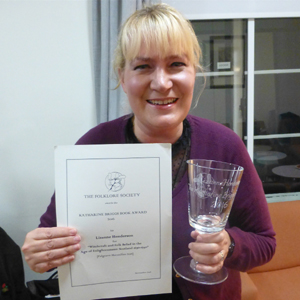 Lizanne Henderson, a Lecturer in History in the School of Interdisciplinary Studies, has won the Katharine Briggs Award 2016 in recognition of her book 'Witchcraft and Folk Belief in the Age of Enlightenment: Scotland, 1670-1740' which was published by Palgrave Macmillan earlier this year.
Lizanne's work was chosen from 19 entries and a shortlist of 6. The award is administered by The Folklore Society, a distinguished learned society founded in London in 1878 and one of the first organizations in the world dedicated to the study of traditional culture and folklore.
The award was presented to the author by the current Society President Prof. James H. Grayson at the annual awards ceremony held on 9 November at the Warburg Institute, University of London. Comments from the panel of three judges:
'Folkloric and other evidence meld seamlessly within this rich, original and compelling 'history from below.' An effective challenge to the historiographical orthodoxy that popular Scottish belief in - and fear of - witches and witchcraft declined from c.1670. A great example of how sources and concepts from folklore can inform and enrich historical research.'
About the book
Taking an interdisciplinary perspective, Witchcraft and Folk Belief in the Age of Enlightenment represents the first in-depth investigation of Scottish witchcraft and witch belief post‐1662, the period of supposed decline of such beliefs, an age which has been referred to as the 'long eighteenth century', coinciding with the Scottish Enlightenment. The late seventeenth and early eighteenth centuries were undoubtedly a period of transition and redefinition of what constituted the supernatural, at the interface between folk belief and the philosophies of the learned. For the latter the eradication of such beliefs equated with progress and civilization but for others, such as the devout, witch belief was a matter of faith, such that fear and dread of witches and their craft lasted well beyond the era of the major witch-hunts. This study seeks to illuminate the distinctiveness of the Scottish experience, to assess the impact of enlightenment thought upon witch belief, and to understand how these beliefs operated across all levels of Scottish society. This book is part of the Palgrave Historical Studies in Witchcraft and Magic series.
About the author
Lizanne Henderson has been a lecturer and cultural historian at the School of Interdisciplinary Studies, University of Glasgow, UK since 2004. She is Editor of Review of Scottish Culture and has published on the Scottish witch-hunts, folk belief, ballads, critical animal studies, Scottish diaspora, polar explorers, and the transatlantic slave trade. Her books include Fantastical Imaginations: The Supernatural in Scottish History and Culture (2009) and, with Edward J. Cowan, Scottish Fairy Belief: A History (2001), and A History of Everyday Life in Medieval Scotland, 1000 to 1600 (2011).
---
First published: 21 November 2016