UofG students recognised by "Junior Nobel Prize"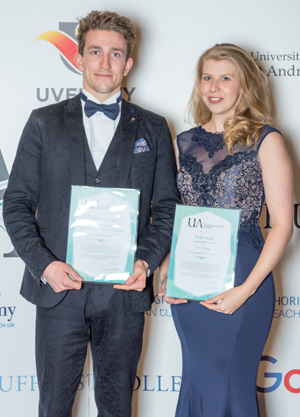 Two students from the University of Glasgow have emerged winners from this year's Undergraduate Awards Global Summit in Dublin, a gathering of 150 of the world's top undergraduate students.
Holly Scott from the School of Psychology was the Regional Winner - Europe in recognition of her work on #Sleepyteens: social media use in adolescence is associated with poor sleep quality, anxiety, depression and low self-esteem.
Lewis Watson was Highly Commended Entrant, Politics and International Relations for his work: Are luck egalitarians right to give choice a central role in their theory of equality?
Holly is undertaking an ESRC funded PhD, supervised by Prof Stephany Biello and Dr Heather Cleland Woods. She graduated with a joint MA in Psychology and French (First Class) in 2015, followed by an MSc in Research Methods of Psychological Science (Distinction) in 2016.
Lewis is a UofG LLB and Politics graduate (First Class) and is now undertaking PGT study at the university. He said: "I am currently on the Human Rights and International Politics MSc and I am also the Opinion Editor for Affairs Today (a global, online, student run journal). I am hoping to get involved in public policy once I have graduated."
Cited as the ultimate champion of high-potential undergraduates, and often referred to as a "junior Nobel Prize", The Undergraduate Awards is the world's largest international academic awards programme, recognising excellent research and original work across the sciences, humanities, business and creative arts.
'Junior Nobel Prize'
The Undergraduate Awards received a record number of submissions in the 2016 programme, totaling 5,514 papers from undergraduates in 244 institutions and 121 nationalities. In each category, the Global Winner is the highest-performing paper overall and also within each category the Regional Winner is the highest performing Highly Commended paper from their region. Highly Commended Entrants are those who were ranked in the top 10% of submissions in each category.
In total, 58 different universities and 37 different nationalities were represented at the UA Global Summit this year. Ryerson University, Canada; Stanford University, USA; University of Johannesburg, South Africa and the University of Helsinki, Finland were among the institutions represented at the event.
The students received their medals and certificates at the UA Global Summit and were addressed by keynote speaker Dr. Mae Jemison, NASA Astronaut.
Speaking about this year's Winners and Highly Commended Entrants, CEO of The Undergraduate Awards Louise Hodgson said "This is a huge achievement for the University of Glasgow and its students. UA received the highest number of submissions to date with only the best papers making it through the judging process - the competition was extremely tough and the Judges were astounded at the high quality of undergraduate research in the programme this year. Congratulations to this year's successful entrants".
About The Undergraduate Awards
The Undergraduate Awards is the world's largest international academic awards programme, recognising innovation and excellence at undergraduate level. Cited as the ultimate champion for high-potential undergraduates, UA identifies leading creative thinkers through their undergraduate coursework and provides top performing students with the support, network and opportunities they require to raise their profiles and further their career paths.
---
First published: 21 November 2016